Last Updated on June 6, 2015 by Chef Mireille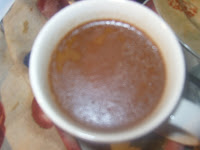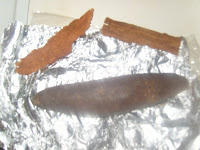 Hot Cocoa – one of those comfort drinks that automatically remind you of your childhood – while sometimes my mother served the packaged stuff that comes in the envelopes for speed and convenience, when she served Caribbean Hot Cocoa, that was our special treat!!
This is still something you can't find in the US , so she used it sparingly because it was only when we went to the Caribbean or when someone we knew went, were we able to get fresh cocoa from the Caribbean. Boiled with evaporated milk and spices – it is Heaven on Earth!!
So the next time you go to the Caribbean, instead of coming back with another T-shirt or keychain you don't need, go to any grocery store and buy some cocoa. It is sold either in cones or sticks and sometimes comes in a little bag with the cinnamon and bay leaf.
I still had some cocoa and fresh cinnamon bark left from my last trip to Dominica, and so here is my recipes for Caribbean Hot Cocoa. If you can't get any fresh cocoa from the Caribbean, use a dark chocolate bar – as pure cocoa as you can get.
Caribbean Cocoa
Ingredients:
1/2 cone cocoa, grated, about 2 cups
3 cups evaporated milk
1 cup water
2 pieces cinnamon bark (or cinnamon sticks)
1 bay leaf (if it is fresh, use 2 if it is dried especially the ones sold in the US which tend to be a lot smaller)
2 star anise (optional)
sugar, to taste
Combine all ingredients in a saucepan and bring to a boil. Stir thoroughly to make sure all cocoa is melted. Reduce to a simmer and cook for 10 minutes so that the flavors can infuse. Add sugar, to taste. Serve immediately.
As it cools, a skin will form on the surface. Just stir it back in or remove, if desired.
Enjoy!!
Update: Linking to Simply Food's Flavours of Caribbean hosted by The Spicy Pear

Chef Mireille