Last Updated on November 13, 2019 by Chef Mireille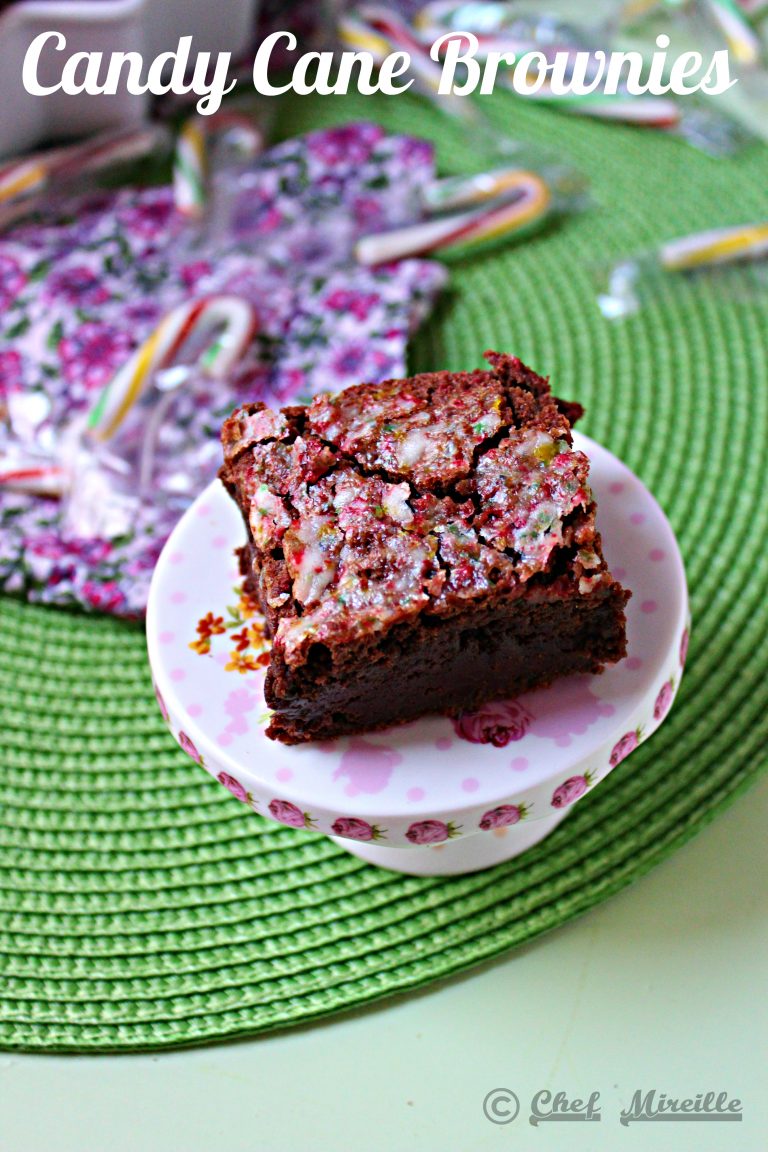 What's one of the best things about the holiday season? Candy Canes. All of a sudden bowls of candy canes are in the office where you work. Go to the bank and they are greeting you with candy cane presents. They come in many different flavors now, but my favorite are still the originals. You can keep the tropical and berry flavored ones and I'll take the traditional peppermint. Mint and chocolate are one of my favorite combinations. My favorite ice cream flavor is mint chocolate chip and my favorite candy since I was in high school are Andes' Creme de Menthe – mint filling sandwiched between two pieces of chocolate. So I decided to try this perfect marriage of flavors in a brownie. If you like mint and chocolate together as much as I, you are going to love these fudge Candy Cane Brownies.
I ground the candy canes using a coffee/spice grinder. However, if you prefer to leave them more coarse, you can just pulse them in a food processor.
These brownies are super soft and fudgy with that perfect marriage of chocolate and mint…who can resist?
Candy Cane Brownies
Candy Cane Brownies
fudgy brownies with minty candy cane flavors
Ingredients
Instructions
Preheat oven to 350 F. Spray a square baking dish with non stick spray. Line with parchment paper.

Using a double boiler, melt butter and chocolate.

In a bowl, combine flour, baking powder and salt. Whisk to blend well.

In a large bowl, combine sugar, eggs and vanilla. Beat well. Add chocolate and mix until well combined.

Add flour until thoroughly combined.

Transfer to prepared baking pan. Sprinkle candy cane crush on top. Bake for 50-60 minutes, until brownies have set and toothpick inserted comes out almost clean.

Cool completely before inverting the pan onto a cutting board. Peel off parchment paper. Flip over.
Notes
I used 88% cacao chocolate, but you can use any semi-sweet or unsweetened dark chocolate. At least 60% cacao would be best.
Did you try this recipe? Leave a comment below.
Please follow me on Instagram @chefmireille or tag me #chefmireille with your pics! I'd love to share them!
Don't forget to visit the RECIPE INDEX with over 1000 recipes from around the world including lots of Vegetarian Recipes and Gluten Free Recipes!