Last Updated on June 2, 2015 by Chef Mireille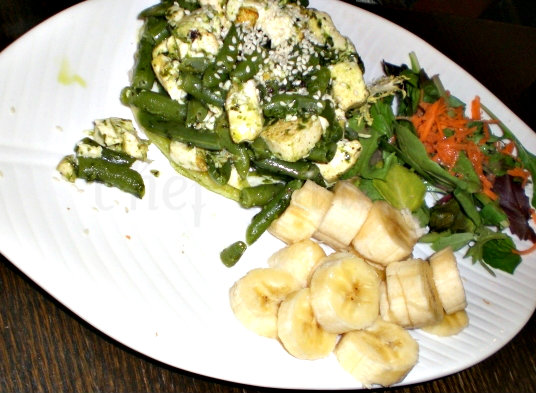 Tofu Arepa
Cafecita Bogota is a Columbian restaurant I have been
wanting to try for a few years. Located in the Greenpoint neighborhood of
Brooklyn, it is a bit out of the way on the unreliable G train line. However,
with delicious food, a great staff and relaxed atmosphere, it is worth the trip
out to Greenpoint.
The restaurant has the Caribbean/South American feel of a
little roadside restaurant from that region of the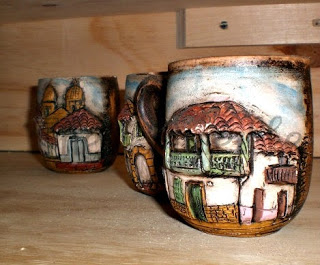 world. The bright
yellow-orange painted walls, close set tables, natural wood and little hat tips
to Columbian history and culture like these little hand made cups and a wall
dedicated to the history of assassinated leftist Columbian leader, Jorge
Eliecer Gaitan create an authentic ambience.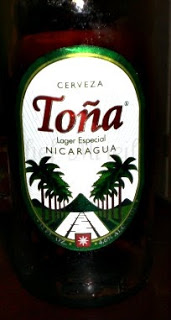 Cafecita Bogota is the only restaurant in NYC owned and
operated by a native Bogotano. The owner, Fernando, was there when I visited.
He makes every customer feel so special, making a round of the tables asking
how people are enjoying their meals and making suggestions. Weekend brunch is
very reasonable at 16.50, including one entrée served with salad and fresh
fruit as well as two drinks. One of the drink options is Refajo, a mix of beer
and South American cream soda. I enjoyed this so much. Being from the
Caribbean, the food, drink and atmosphere felt familiar to me. This drink was
similar to a drink we have in the Caribbean called Shandy, a mix of beer and
sorrel drink (dried hibiscus boiled with clove, cinnamon and ginger).
Although not included in the brunch price, you may want to keep
on trying more options from his good variety of South American beers, including
options from Columbia, Brazil and Nicaragua. I discovered my new favorite beer,
Tona. Tona is a light and sweet beer with no bitterness. It's the perfect beer
for those women who don't generally like the bitterness of most beers. A cold
one on a hot, summer day is refreshing and light, to combat the heat of the
sun. Who knew the small Central American country of Nicaragua would produce
such a thirst quenching treat!
Now let's get to the food. Shrimp and beef are the main proteins featured on the brunch menu. Arepas are light, soft and airy.
Shrimp ceviche is very different from the acid marinated ceviche of Peru. With
mayonnaise and a bit of ketchup, it is more like an American type of shrimp
salad with the kick of jalapeno.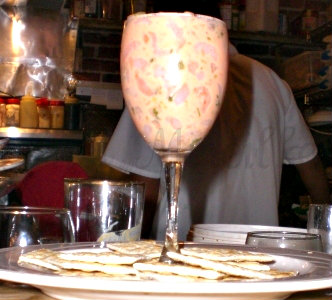 Shrimp Ceviche
A drizzle of the table hot sauce put it over
the top. Using fresh ingredients, even
the simplest options from the menu are an assault on the taste buds.
Arepas Montadas are piled high with toppings. The calena
option was topped with shrimp and crispy fried plantain in a luxuriant tomato
and garlic sauce. They were not stingy at all with the shrimp, getting one in
every bite.
Arepa Calena
Cafecita Bogota's version of
Shrimp and Eggs are 5 jumbo shrimp with a tomato based sauce, eggs, salad and
an arepa with melted cheese on top. In
addition to the Columbian entrees, there are also a few American options like
Eggs Benedict and Baguette with Lox, as well as an arepa piled high with tofu
and vegetables to make the Vegetarian happy.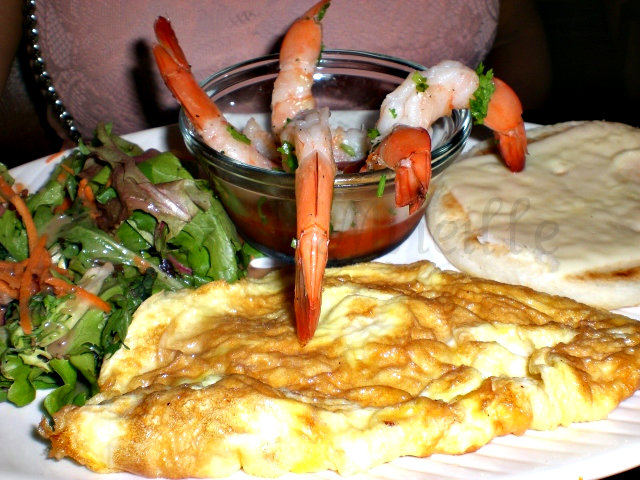 Shrimp & Eggs
Both the food and the ambiance achieve rustic and modern
simultaneously. The portion size is perfect. It's enough to feel satiated, but
not the oversized portions usual in most American establishments.
Learning that my dining partner was celebrating her
birthday, we were treated with the best Tres Leches cake I have ever had. Just
enough sweetness for it to be called a cake but not the cloying sweetness I've
experienced when I have sampled this cake before.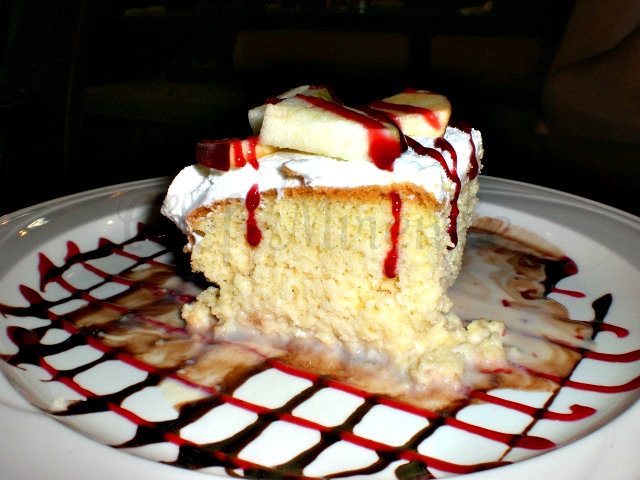 Tres Leches Cake
My previous experience with Columbian cuisine at Bogota Café
in Park Slope pales in comparison to the flavors and atmosphere experienced at
Cafecita Bogota. Here, the staff makes you feel special and for that reason
alone, it's worth the trek to Greenpoint. Delicious food on top of that and this is a place that deserves repeat visits!
LIKE THIS RECIPE? LEAVE A COMMENT..I LIVE FOR THEM!
Chef Mireille