Last Updated on November 13, 2019 by Chef Mireille
Broiled Mango Parfait
This umami dessert is one amazing bite full of complimentary flavors – spicy, sweet, tart, and cooling creaminess!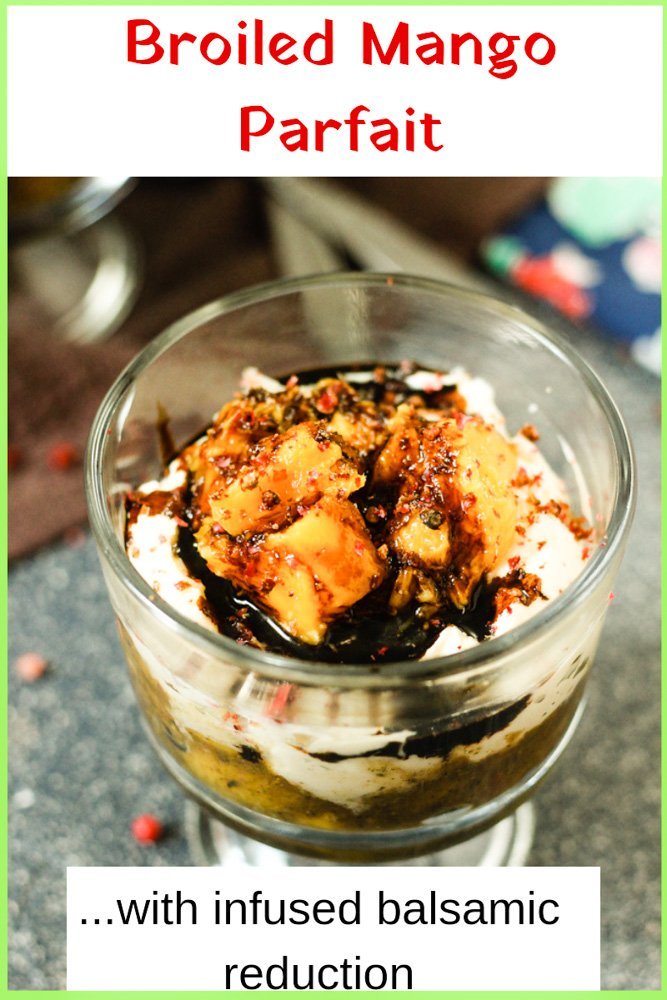 Mango, known as the king of fruits in some parts of the world, is definitely my all time favorite fruits. There are so many varieties of mangoes in the world and I haven't yet met one I didn't like.
My family in Suriname has a mango plantation, where over 30 varieties of mangoes are grown. Sadly, I haven't yet had the opportunity to visit them. Growing up, I have heard stories from my Mom and other relatives of all the mangoes and some of them have flown across for me to sample.
Needless to say, when I set out to create an amazing gourmet dessert full of umami flavors, the star of the dish has to be the King of Fruits.
One of the very simple desserts that is popular in Italy is strawberries, ricotta, a little sugar and balsamic vinegar. I took inspiration from this simple combination and brought it to the next level by adding more flavor profiles.
sweet mango fruit
smoky flavors from broiled mango and dried mint
sweet tart flavor from balsamic reduction
cooling from marscapone
a little spice from pink peppercorns
If you are one of those who don't like desserts to be super sweet, then this one is for you. Or if you are simply trying to reduce your sugar intake for weight loss goals or other health reasons, I guarantee you will love this dessert!
Balsamic Reduction
Balsamic Reduction is such a delicious kitchen staple. I usually have a few different versions in the pantry.
I use different spices and herbs to have a more savory version which is great on roasted meats or vegetables like the one used in this Glazed Beets recipe. I also keep one used for sweet recipes infused with vanilla and other spices.
To make the reduction, all you do is simmer balsamic vinegar until it reduces to a syrup consistency. It will then have a sweet taste, with a slight tartness in the background – almost like a very mild molasses.
You will have quite a bit of extra Balsamic Glaze. Keep it in the pantry and drizzle it over ice cream or yogurt!
Broiled Mango Parfait with infused Balsamic Reduction is ecstasy on a spoon and you should definitely make it for the special someone's in your life!
Broiled Mango Parfait with infused Balsamic Reduction
Broiled Mango Parfait with infused Balsamic Reduction is a dessert full of umami flavors. Perfect for Valentine's Day, Mother's Day or any special occasion!
Ingredients
Broiled Mango Ingredients:

1

teaspoon

dried mint

1

teaspoon

jasmine flowers

1

mango

1

tablespoon

rum

juice and zest of 1 lime

Balsamic Reduction Ingredients:

2

cups

Balsamic Vinegar

2

vanilla beans

Marscapone Layer Ingredients:

3/4

cup

marscapone cheese

1

tablespoon

honey

Garnish Ingredients:

1

peeled and chopped mango

coarsely crushed pink peppercorns
Instructions
In a spice grinder, combine mint and jasmine until ground to a fine powder.

Peel and chop 1 mango.

Combine mango with mint/jasmine, rum and lime.

Marinate for at least 30 minutes.

Meanwhile, make the balsamic reduction.

In a skillet, combine vinegar and cinnamon stick.

Split the vanilla beans and place into the vinegar.

Bring to a boil.

Reduce to a simmer and cook on low heat until reduced by half, about 15 minutes. SEE NOTE BELOW

Leave to cool. It will thicken to a syrup like consistency.

Set broiler on high.

Place mango under broiler and broil for 10-15 minutes until mango starts to brown and caramelize.

In a bowl, combine marscapone and honey and whisk until thoroughly combined.

To assemble parfaits, divide broiled mango in 2-4 dessert dishes, as preferred.

Divide marscapone among the dessert dishes.

Drizzle a little of the balsamic reduction on top.

Garnish with the chopped mango and the pink peppercorns.
Notes
It is preferable to make the balsamic glaze in advance as it is preferable to step out of the kitchen during the first 5 minutes of making the reduction. The acid evaporating will make your eyes burn.
Nutrition
Calories:
339.82
kcal
|
Carbohydrates:
54.83
g
|
Protein:
7.39
g
|
Fat:
7.89
g
|
Saturated Fat:
4.28
g
|
Sodium:
168.97
mg
|
Fiber:
3.81
g
|
Sugar:
47
g
Did you try this recipe? Leave a comment below.
Please follow me on Instagram @chefmireille or tag me #chefmireille with your pics! I'd love to share them!
SHARE THIS DELICIOUS RECIPE WITH YOUR FOODIE FRIENDS
Need more culinary inspiration? Check out the Recipe Index with over 1500 Recipes from Around the World with lots of Vegetarian 🥕🍆🍅and Gluten Free Recipes!