Last Updated on January 11, 2020 by Chef Mireille
Brined Quail with Cherry Port Sauce – French Country Dinner is comfort food – French Style!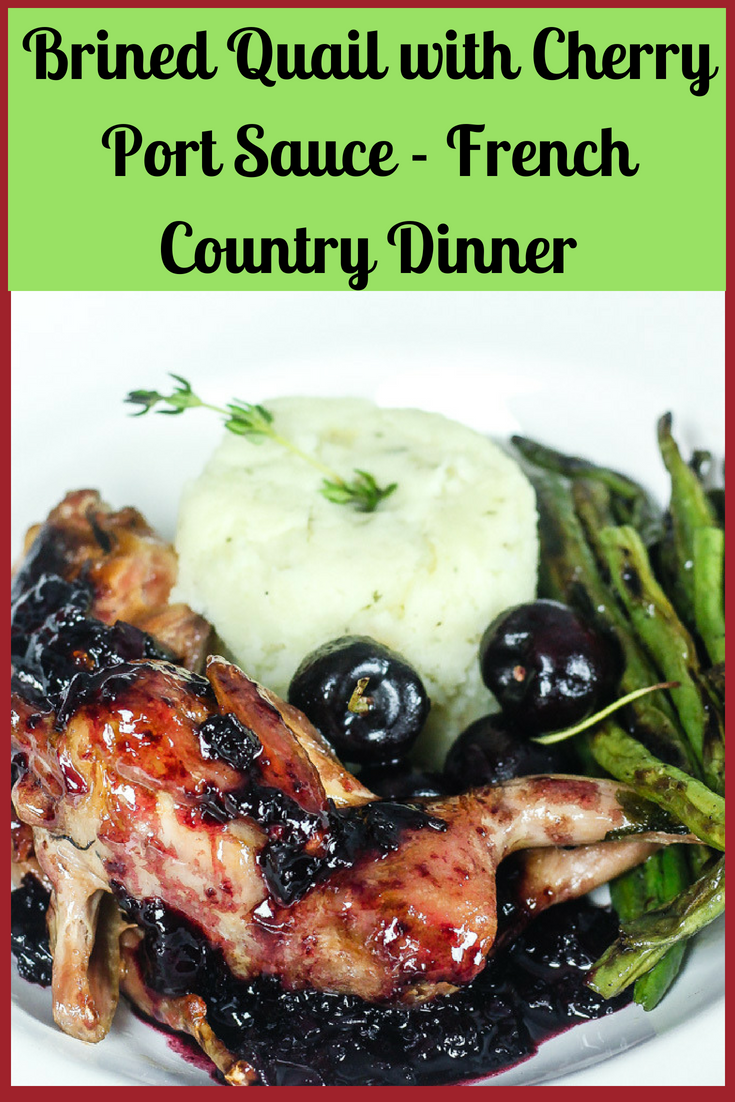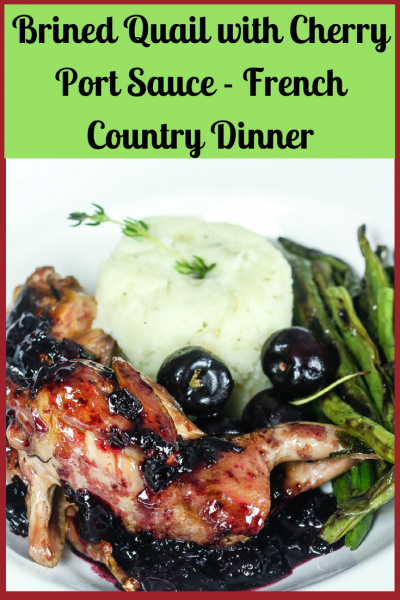 This week I am bringing you some traditional French food. Are you a Francophile? Love all things French? Then you definitely want to stay tuned for the recipes this week! The French are regarded as the originators of haute cuisine and culinary arts as an art form and something to present to other people – not just cooking at home to eat for survival.
I often take issue with people who regard French food as the be all and end all of cuisine. There are many cultures in Asia and Africa that have amazing culinary traditions that pre date the French. That's one of the reasons I focus so much on international food. I think many cultures don't get their fair praise as many people in the West compare everything against the bar of French cuisine as the model. 99% culinary schools teach French cuisine and techniques and we get maybe one semester of other cuisines. With just one semester, sometimes just a week is given to learning about an entire continent – really – that can all be crammed into one week???
In fact, I was once working with a cook who said he does not even bother to learn about other cuisines because nothing they do can compare to the French – you don't want to see my facial expression that was my reply – this person was too ignorant to waste my time conversing with him!!! He said as he only wanted to work at the best restaurants and that would be only French cuisine. Obviously, even he did not realize that modern French cuisine is accented with Morocco and other countries they have colonized.
As much as it annoys me when people think French cuisine is the only one to learn, I still think French cuisine has a lot to offer and they have some amazing culinary techniques.

Brining
I can't say for sure whether the French invented the art of brining, but it is a common practice throughout Europe, even in England it is called corning. It is extremely popular here in America as a way to achieve really flavorful and tender meat. You can check out some of my previous brining recipes here.
There are two types or brining – dry brining and wet brining.
Dry Brining – In this method, the main food item is packed in salt so that the item is completely covered in a thick layer of salt. It is left to dry for several hours. The salt is then removed and the food item is cooked as usual.
Wet Brining – In this method, a solution of water, a good quantity of salt and spices is mixed together. The main food item is marinated in this brine for a few hours and then the food item is cooked as usual.
Today I am presenting a typical French country meal. Imagine hunting for wild game in the countryside of Provence and coming back home with some quail. This is a dinner that might be prepared with that quail you just caught. Accompanied simply with some mashed potato and grilled green beans, this is French comfort food at its best. For a more gourmet presentation, you can truss the quail if desired.
With cherries everywhere, this is the perfect time of year to utilize all those fresh cherries we see everywhere!
This is kind of a chunky sauce – almost like a chutney – but oh so delicious!
This meal is just the best example of French comfort food!
Brined Quail with Cherry Port Sauce – French Country Dinner
Classic French Comfort Food with Brined Quail
Ingredients
6

cups

water

1/3

cup

salt

3

tablespoons

sugar

10

juniper berries

1

tablespoon

black peppercorns

7

stalks of parsley

2

bay leaves

3

crushed garlic cloves

6

quail

Cherry Port Sauce Ingredients:

2

tablespoon

butter

separated

3

tablespoons

finely chopped shallot

1

cup

pitted cherries

2

tablespoons

sugar

½

teaspoon

salt

1

cup

port wine
Instructions
Heat the water with the salt and the sugar until the salt and sugar dissolved.

Add juniper berries, peppercorns, parsley, bay leaves and garlic. Stir to combine. Leave to cool.

Add quail and leave in the brine for at least 4 hours.

Preheat oven to 425 F.

Remove quail from the brine and pat dry.

Place in a roasting pan and transfer to the oven.

Roast for 15 minutes.

Meanwhile, make the sauce.

In a large skillet, heat 1 tablespoon of the butter.

Add shallots and cook until softened.

Add cherries, sugar, salt and port. Bring to a boil. Reduce to a light simmer.

Simmer until thickened, about 5 minutes.

Add remaining butter and whisk until incorporated.

Garnish with fresh cherries.
Notes
Brining time not included in prep time.
Did you try this recipe? Leave a comment below.
Please follow me on Instagram @chefmireille or tag me #chefmireille with your pics! I'd love to share them!
Do you know anyone else who likes learning about international food, culture, history and travel? Bring them over here to join the party! Don't forget to use those share buttons!
Start Here to find out how the Schizo Chef can help you with your cooking, travel and other needs!
If you like this recipe, PLEASE LEAVE A COMMENT & SUBSCRIBE!
Check out the Blogging Marathon page for the other Blogging Marathoners doing this BM#91