Last Updated on May 20, 2020 by Chef Mireille
Boonchi Curry – Sri Lankan Green Bean Curry – Have you resolved to add more vegetables to your diet this year? This quick and easy curry will inspire you to get your daily veggies in!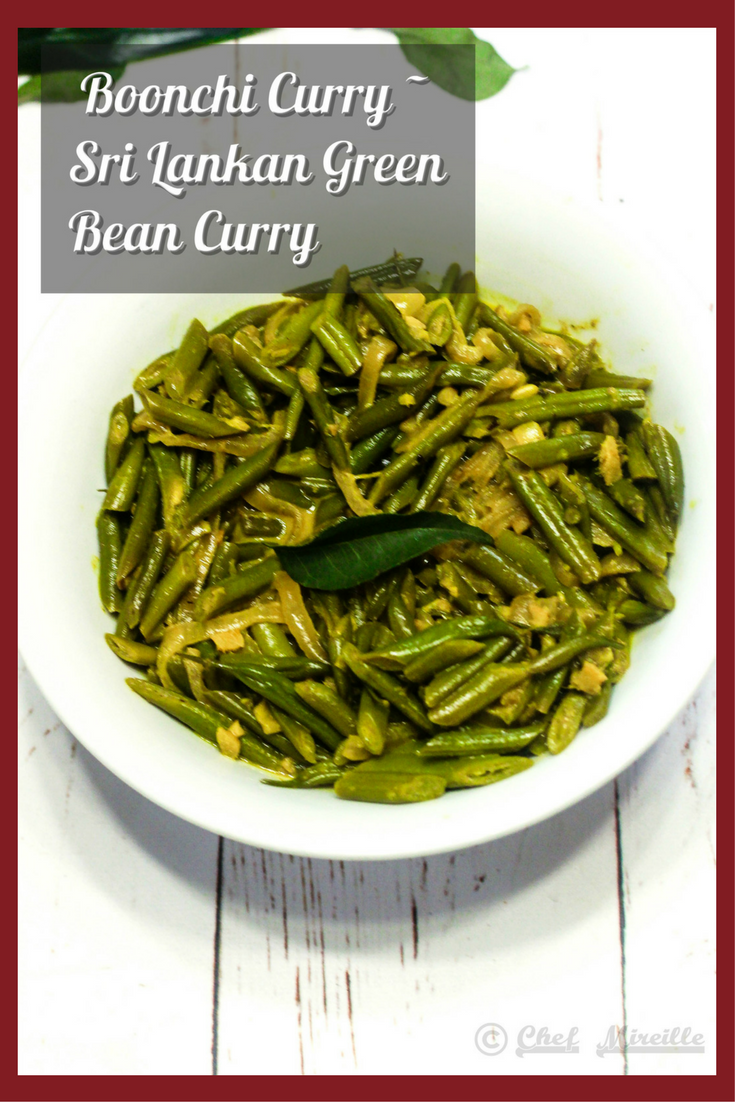 A scenic 30 minute ferry ride from Manhattan and a short bus ride or 20 minute walk and you will find yourself in the Sri Lankan enclave of New York City. Restaurants and grocery stores for you to find every Sri Lankan food product to make your own Sri Lankan meals at home. Once the weather gets warmer, its a great way to spend a foodie focused afternoon. Check out this post to see what foods you might enjoy and encounter in Staten Island's Sri Lankan enclave. (It's a really old post so due excuse the poor quality of the photos. Looks like it's time for me to update that post. Guess I'll be taking the ferry soon.)
This easy curry was made easier by using store bought Sri Lankan Curry Powder. Sri Lankan Curry Powders are sold in different forms. You can either purchase raw or roasted curry powder. For this recipe, I used roasted curry powder. For those who live in NY, you can get this at Lanka Grocery or Kalustyans.
Online Resources for Sri Lankan Curry Powder
One of the major differences between Indian curries and Sri Lanka is the use of rampe, also known as pandan in other Southeast Asian countries. The unique flavor of pandan is added to many both savory and sweet dishes. It is also included in their curry powders.
IN THE MAKING
Serve with Turmeric Rice.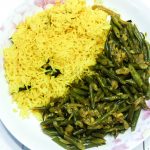 Print Recipe
Boonchi Curry – Sri Lankan Green Bean Curry
Ingredients
3

tablespoons

oil

3

finely chopped garlic cloves

1

tablespoon

finely chopped ginger

2

finely chopped green chiles

1

strand curry leaves

1

thinly sliced onion

1

lb.

haricot verts

or green beans

5

teaspoons

Sri Lankan curry powder

1

teaspoon

ground turmeric

2

rampe/ pandan leaf

1

cup

coconut milk

salt

to taste
Instructions
In a wok or deep skillet, heat oil.

Add garlic, ginger and chiles. Fry for 30 seconds.

Add curry leaves and onion.

Saute for 5 minutes, until the onions start to change color.

Add green beans, curry powder, turmeric and rampe. Stir fry for a few minutes.

Add ½ cup of water, cover and steam for 10 minutes.

Add coconut and cook for 5 minutes on high heat.

Add salt and stir to combine.

Turn off flame, cover and let it rest for 5 minutes.

To serve, discard rampe leaves.
This Boonchi Curry was part of a Sri Lankan Thali that included:
Mutton Curry
Turmeric Rice
Dal
Tuna Krokets
Coconut Sambol
Savboro
Do you know anyone else who likes learning about international food, culture, history and travel? Bring them over here to join the party! Don't forget to use those share buttons!
Start Here to find out how the Schizo Chef can help you with your cooking, travel and other needs!
If you like this recipe, PLEASE LEAVE A COMMENT & SUBSCRIBE!
Check out the Blogging Marathon page for the other Blogging Marathoners doing this BM#78
Sign up for our updates!
Subscribe to get our latest content by email and get your FREE Pantry Cheat Sheet - Learn the basics to cook any International cuisine!