Last Updated on April 1, 2022 by Chef Mireille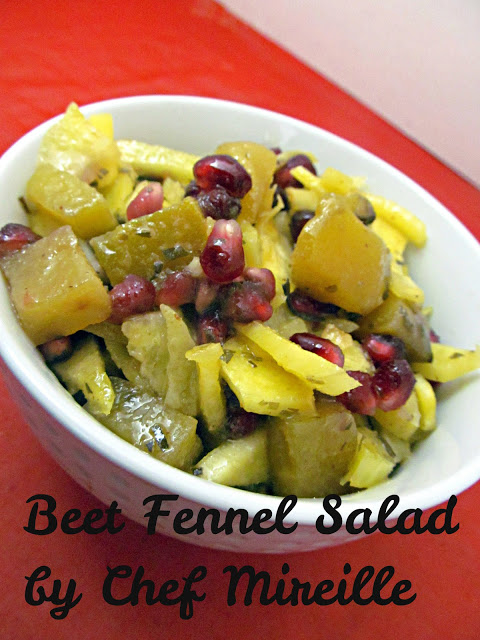 One of the most popular ingredients for salads on this blog are golden beets. They don't bleed as much as red beets. They have a slightly milder taste than red beets, making them very adaptable to include in many dishes. Here is yet another salad featuring my star of salad ingredients.
Golden Beet Fennel Salad
Serves 4
Ingredients:
3 golden beets, peeled and diced
6 tablespoons olive oil, divided
2 teaspoons dried tarragon
1/2 large fennel bulb, thinly sliced (or 1 small fennel bulb)
4 tablespoons pomegranate seeds
1/2 cup grapefruit juice (freshly squeezed from a red grapefruit)
1 teaspoon spicy mustard (I used Polish brand Kozkiusco spicy brown mustard)
1 teaspoon honey
1/2 teaspoon salt
Preheat oven to 400 F.
Toss the golden beets with 3 tablespoons of the olive oil and the tarragon.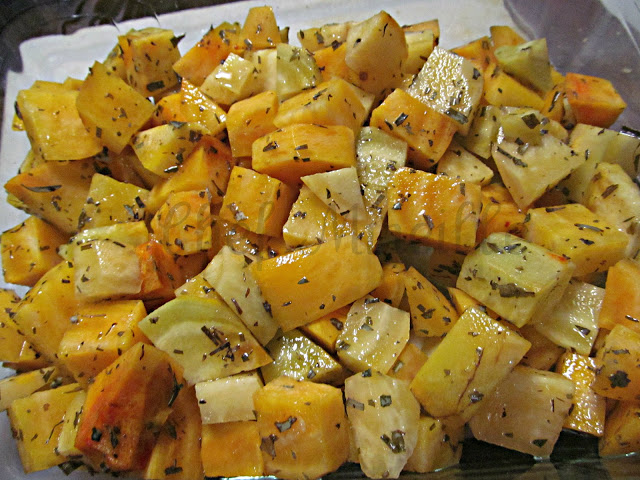 Place in an oven safe dish and roast until tender, about 30 – 40 minutes. Once they are finished cooking, let them cool to room temperature.
Meanwhile, let's make the dressing.
Whisk together the grapefruit juice, mustard, honey and salt. Slowly drizzle in the remaining olive oil, whisking continuously.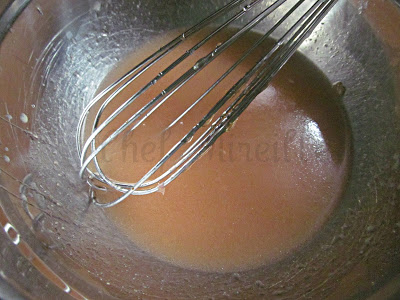 Place beets, fennel and pomegranate seeds in a large bowl.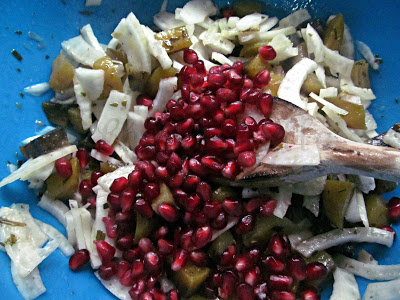 Pour in salad dressing and toss well.
Let marinate for at least 1 hour before serving

…linking to Favorite Recipes: non-Indian food hosted by CookCookandCook
LIKE THIS RECIPE? LEAVE A COMMENT..I LIVE FOR THEM!
Chef Mireille
Like me on FACEBOOK!
Follow me on TWITTER!