Last Updated on November 13, 2019 by Chef Mireille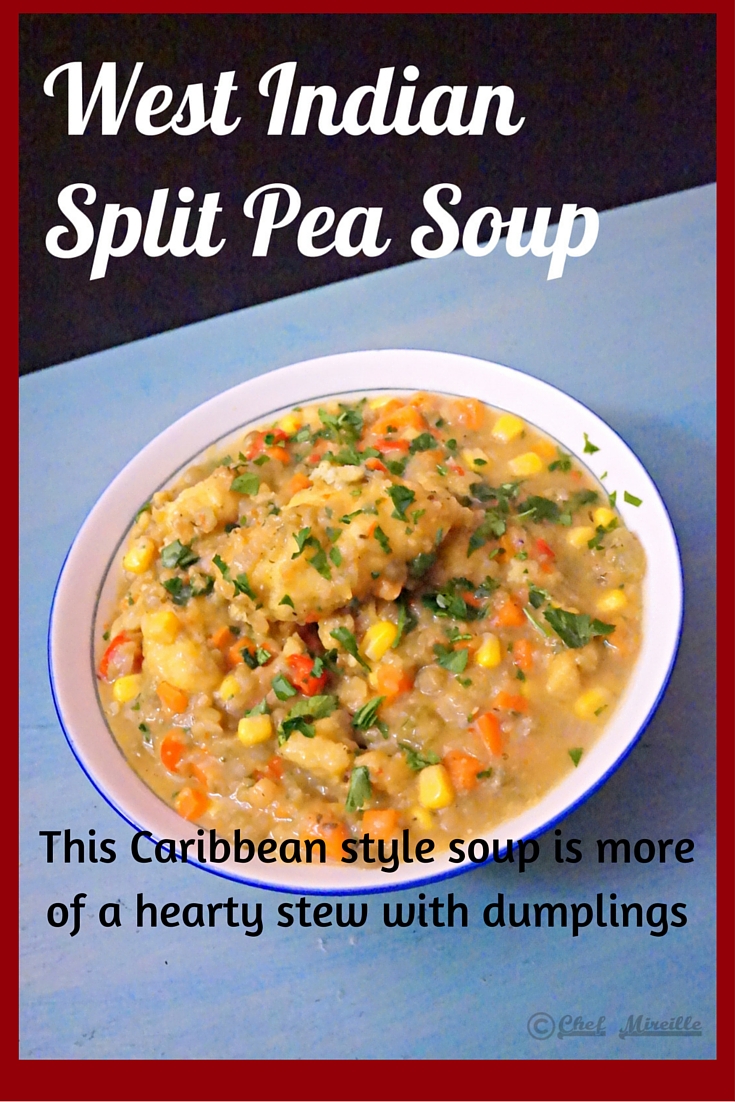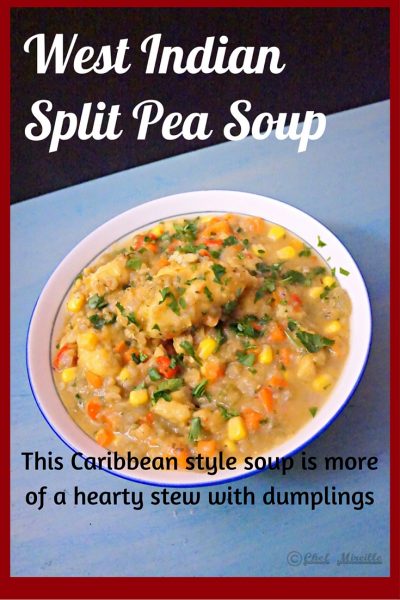 Soup…you wouldn't think people in the West Indies would drink a lot of soup, but we do. In fact, people in many in hot countries love soup. I have been watching a lot of Mark Wiens' videos on YouTube. If you are a foodie who loves to travel, you must check out his videos. Since I am travelling to Southeast Asia next month, any free time I have is spent watching his videos with notebook in hand so I know exactly where to go to get the best tasting food in each country. He has many videos from Bangkok and Penang to Nagaland (India) and Tanzania. I definitely recommend taking a look at his channel here if you are a foodie with any upcoming travel plans.
In the hot and humid heat of Bangkok and Penang, he is mostly eating hot steaming bowls of soups and curries, with sweat pouring down his face. Well, the people in the Caribbean are just the same. Split Pea Soup, Red Bean Soup, Soup Jou Mou (Haitian Pumpkin Soup), Cow Foot Soup, Goat Water, Sancocho, Fish Tea…and the list goes on…the varieties of soup we eat are endless…so when I picked the BM theme this week of family recipes, I knew I had to include at least one soup.
Snowed in this weekend during Blizzard2016, what better way to spend the day with the snow falling and wind blowing against the windows than to make a comforting bowl of West Indian style Split Pea Soup? I remember many a snowstorm when I was young before global warming when a few blizzards were an annual occurrence and this soup was often waiting for me when I returned from outside making snowmen and snow angels, as well as having snowball fights with my siblings and friends.
I tend to use the West Indies and Caribbean interchangeably, but there is a difference. People from the British and French Caribbean (except for Haiti) will refer to themselves as West Indians. Those from the Dutch Caribbean refer to themselves as Antillean and those from the Spanish Caribbean will refer to themselves as Caribbean. I don't know who made these delineations, but they are culturally accepted terms whether or not they are geographically accurate. My grandmother from Dominica would say she was from the West Indies, while my cousin from Curacoa says she is Antillean and my best friend from the Dominican Republic says her family is from the Caribbean. Anyway, any West Indian soup is not complete without dumplings and this soup is no different!
Jamaicans are going to get mad at m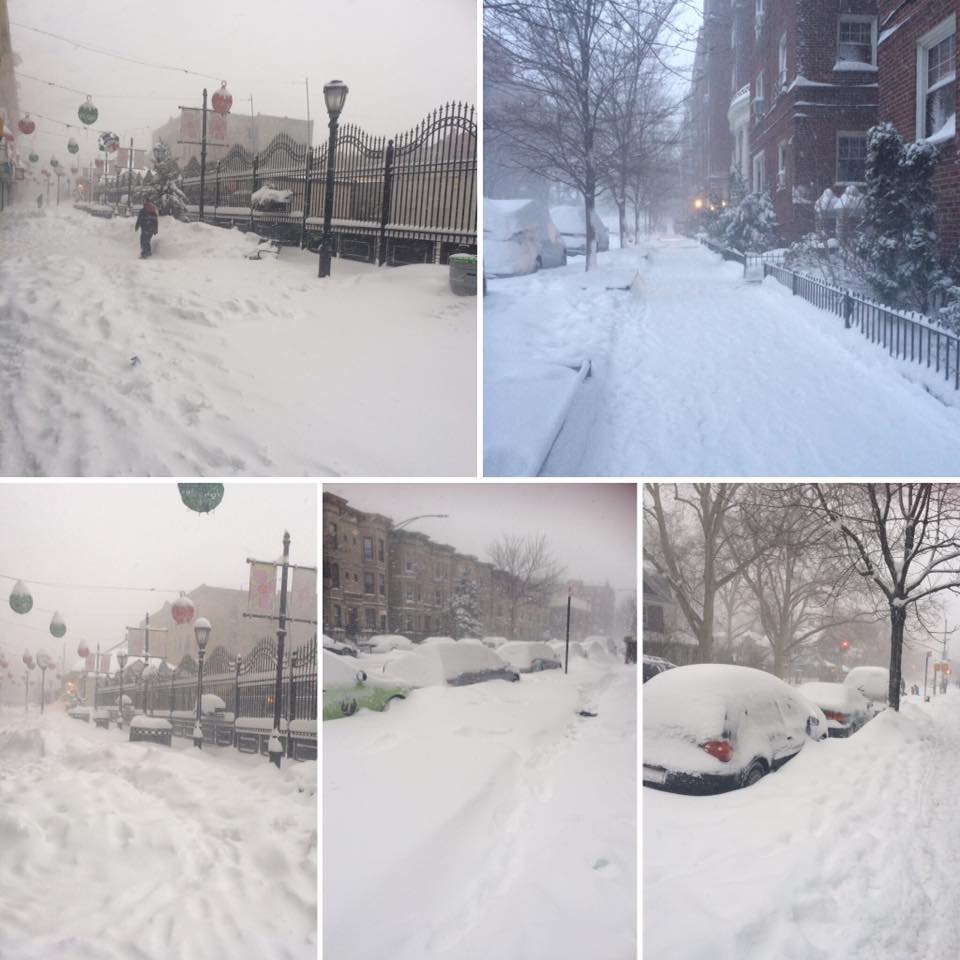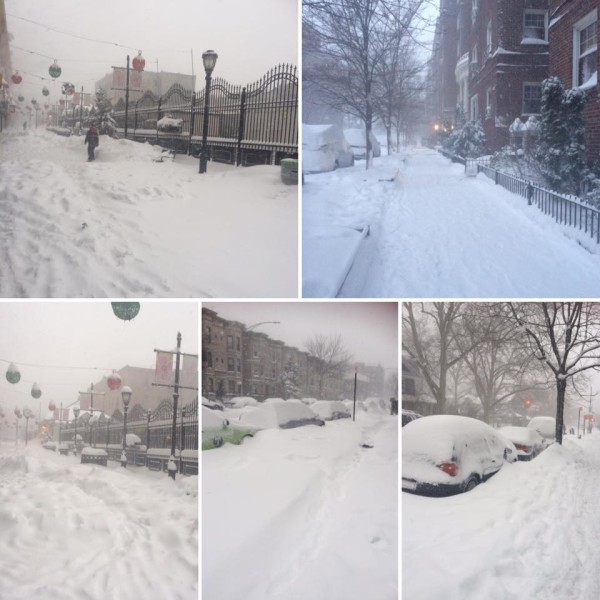 e, but I cannot tolerate Jamaican dumplings which are dense and heavy. My Jamaican friends swear by them and I have to make all kinds of imaginative excuses to avoid eating them. They kind of remind me of hockey pucks. These round flat discs are boiled in hot water and are often served with curries there. I prefer the part of the West Indies and Antilles where my family comes from. Our dumplings are light and absorb all the delicious flavors of the simmering soup our dumplings are cooked in, not to mention ours are often made with cornmeal as I did in this version, which adds more flavor. They are always put in soup and not just put into a big pot of boiling, bland water.
So I was making this soup and it was simmering away and then came time for me to start to put the dumplings together. I go to the fridge to get the butter. There isn't any in the door. No worries, the backup will be in the main fridge right? After clearing out every last shelf, there is no butter in the house. OH NO…so this crazy food blogger goes out in the middle of Winter Storm 2016 and walks to the supermarket as 28 inches of snow comes down in New York City. What I went through to make sure the dumplings were included in this recipe….you better make the dumplings!
West Indian Split Pea Soup with Cornmeal Dumplings
Prep Time: 8 hours
Cook Time: 1 hour 20 minutes
Yield: Serves 6
Ingredients:
2 tablespoons oil
1 onion, chopped
1  bell pepper, chopped
2 stalks celery, chopped
2 cloves garlic, finely chopped
1 cup split green peas (soaked overnight)
1 Scotch Bonnet pepper, halved
4 trees of fresh thyme
1 bay leaf
1 large carrot, small dice (about 1 1/4 cups)
3/4 cup canned corn, drained
salt and pepper, to taste
2 tablespoons finely chopped parsley
Cornmeal Dumpling Ingredients:
1/2 cup cornmeal
1/2 cup all purpose flour
1 teaspoon baking powder
1 teaspoon salt
3 tablespoons cold unsalted butter
1/2 cup – 1/3 cup cold water
Heat oil. Add onion, bell pepper, celery and garlic. Saute until vegetables soften, about 5 minutes.
Add split peas, Scotch Bonnet, thyme, bay leaf and 6 cups water. Bring to a boil. Reduce to a simmer and cook until peas are tender, about 1 hour.
Discard thyme branches and bay leaf. Using an immersion blender, puree half of the soup.
Add 1 cup water, carrots and corn. Cook for 5 minutes. Add salt and pepper.
Meanwhile let's make the dumplings.
In a large bowl, combine flour, cornmeal, baking powder and salt. Mix to combine.
Using a pastry blender, cut in butter until it resembles small peas.
Add water until you have a soft and pliable dough.
Form into oblong shapes.
Drop dumplings into simmering soup and cook for about 10-15 minutes until they are cooked through, stirring occasionally. Stir gently so that breaking is minimal.
Add parsley and stir to combine.
Notes:
Since these are not Jamaican hockey pucks, but light and airy dumplings, they will break, so don't be concerned.
As the dumplings cook, feel free to add additional water as desired if you prefer a more soup like consistency, as traditionally the consistency is more of a hearty stew.
Check out the Blogging Marathon page for the other Blogging Marathoners doing BM#58