Last Updated on December 14, 2020 by Chef Mireille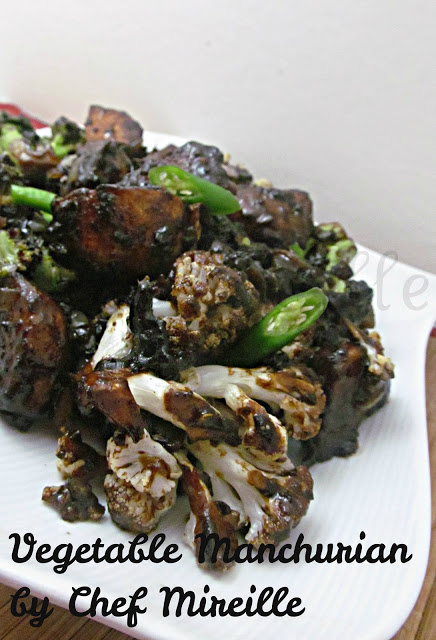 Blogging Marathon #24
Theme: Cooking from a Restaurant Menu
I have now completed a full year participating in Srivalli's Blogging Marathon and it has been a culinary adventure – challenging and educational as I experiment within themes to develop more culinary skills. This month, Srivalli really outdid herself with coming up with some very interesting themes.
The first theme I am undertaking is cooking from a restaurant menu. However, it was limited to a few restaurants in India. After perusing the menus of all, I decided to go with Akbar's Indian Restaurant because they have a Chinese section and I am a big fan of Indo-Chinese food.
For the first recipe, I have selected to do my version of Vegetable Manchurian. Since I already have made Chicken Manchurian, I already knew the procedure so it was just about adapting the recipe for vegetables. Although broccoli is probably not as commonly used in India, I still included it in the vegetable medley because it was in my refrigerator and needed to be used up.
Manchurian I learned does not photograph well into aesthetically appealing photos, however, don't let that dissuade you from trying this delicious entree.
Vegetable Manchurian
(click here for printable recipe)
Serves 4
Ingredients:
2 cups broccoli florets, broken into large pieces
1/2 head cauliflower, cut into large pieces
2 cups potatoes, cut into large pieces
2 tablespoons ginger paste
2 teaspoons garlic paste
2 tablespoons soy sauce
3 tablespoons cornstarch
3 tablespoons rice flour
1/2 teaspoon salt
Oil, for deep frying
1 tablespoon cornstarch
1/2 cup water
1 tablespoon oil
1 onion, chopped
3 cloves garlic, finely chopped
2 large chiles, finely chopped
2 tablespoons soy sauce
1/2 teaspoon sugar
1/2 teaspoon black pepper
1 teaspoon green chile sauce
Toss the broccoli, cauliflower and potatoes with the ginger paste, garlic paste, 2 tablespoons soy sauce, cornstarch, flour and salt.
Heat oil to 350 F for deep frying.
First fry the broccoli and cauliflower for 3-4 minutes. Remove and drain on paper towels. Now fry the potatoes for 6 minutes. This helps the vegetables keep their form when put into the sauce.

Remove and drain.
Whisk the tablespoon of cornstarch with the water and set aside.
In a large skillet, heat oil. Add onion, garlic and chiles. Saute until onions are softened. Add the soy sauce, sugar, pepper, chile sauce and cornstarch solution. Cook for 1-2 minutes until vegetables are well coated.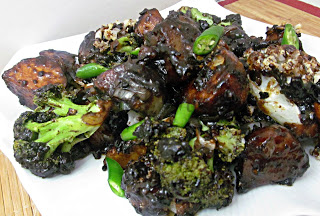 Serve with rice.
Now, the first place I have to visit when I make it to India is Akbar's to see how their version compares to mine!
Check out the Blogging Marathon page for the other Blogging Marathoners doing BM#24
LIKE THIS RECIPE? LEAVE A COMMENT..I LIVE FOR THEM!
Chef Mireille
Like me on FACEBOOK!
Follow me on TWITTER!