Last Updated on May 20, 2015 by Chef Mireille
There are many varieties of rice eaten throughout the world, not popular in the United States. One of my favorite rice varieties is red rice, eaten mostly in South India (especially is Kerala and Goa) and Sri Lanka. It has a nutty flavor, due to some of the bran being left attached to the grain, when the grain is seperated from the husk. Like all varietal rice where there is bran left attached, it is a more healthful option for rice, but more flavorful than brown rice.
It does require more water and cooking time in preparation. Whether you are using a rice cooker or stovetop steaming, 3 1/2 cups of water should be used to 2 cups of rice. For best results, soak rice in water for 1 hour prior to cooking (but this is not absolutely necessary). Rice will be cooked in approximately 30-35 minutes. Fish dishes, especially, go well with the nutty taste of red rice.
Many varieties of red rice, including Bhutanese, South Indian and Sri Lankan, are all available at Kalustyans, online or in the store.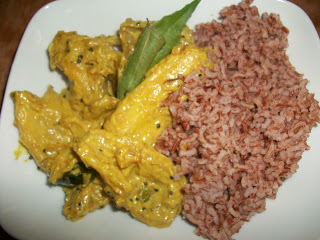 Sri Lankan Jackfruit Curry, flavored with Maldive fish is a wonderful way to complement red rice.
This is one of four curries you can learn to make by taking a Curries of the World Cooking Class, one of a series of cooking classes that will be given by Global Tastes and Travels this summer:
In this class, you will learn how to cook curries from all corners of the world:
South Indian Prawn Curry
Malaysian Fish Curry
Suriname Chicken Curry
Sri Lankan Jackfruit Curry
Caribbean Breadfruit Curry
Please click below for reservations:
May 8th
June 27th
August 1st
For our complete Summer Schedule of classes, see here.
Chef Mireille
https://www.globaltasteinc.com
Like me on FACEBOOK!
Follow me on TWITTER!