Last Updated on November 18, 2015 by Chef Mireille
This shop has been compensated by Collective Bias, Inc. and its advertiser. All opinions are mine alone. #SweetenTheSeason #CollectiveBias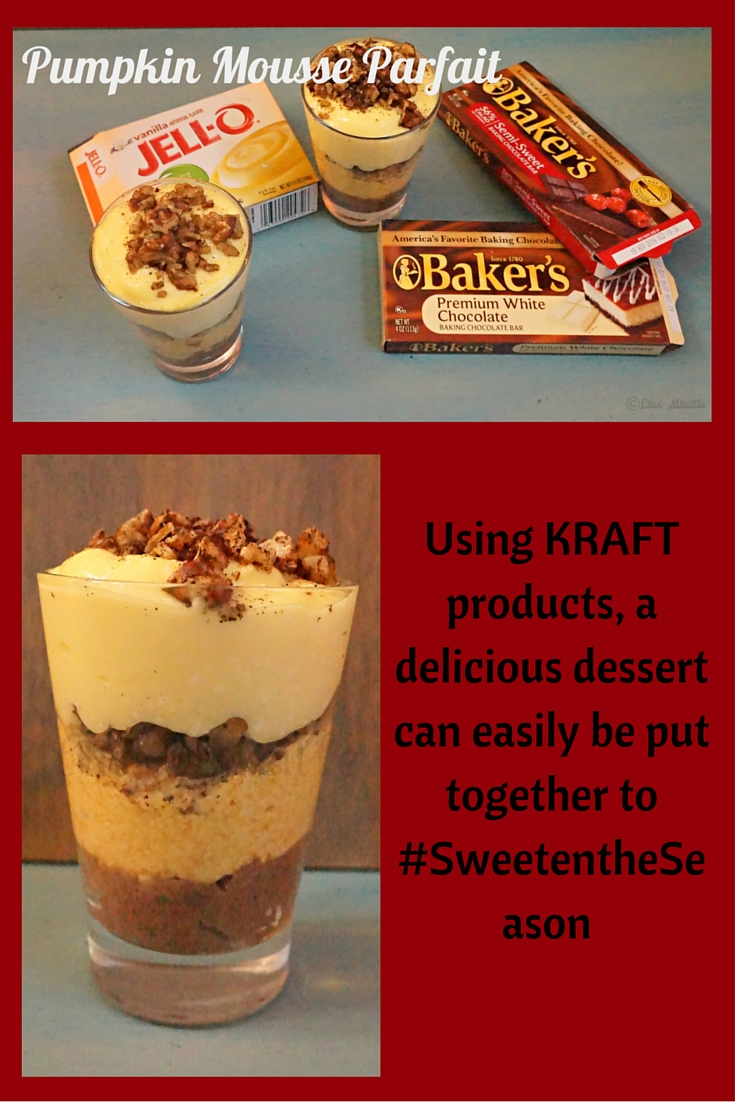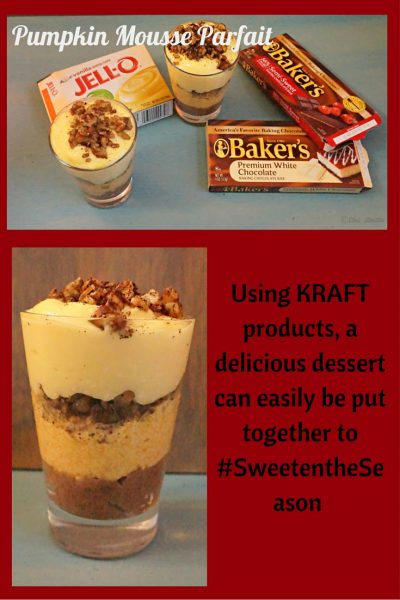 JELL-O Instant Puddings come in so many flavors now it's hard to keep track…everything from flan to cheesecake flavor, but of course there are always the classic vanilla and chocolate flavors. Go to your local Walmart now and all of these flavors plus so many other goodies are available at the Holiday Bake Center displays. Everything you need to make unique holiday desserts including nuts, chocolate and other heavenly delights. Using these varietal puddings, beautiful desserts can easily be put together, instead of rolling out all that dough for the pies. Stop by the Bake Center and see what great products are available to lesson the work load this holiday season.
Of course at this time of year, there are also lots of pumpkin flavored goodies like JELL-O Pumpkin Spice instant pudding and JET-PUFFED Pumpkin Spice mallows, not to mention the classic canned pumpkin. Using the JELLO-O vanilla instant pudding plus a few other goodies at the Bake Center, I was able to come up with these desserts that are sure to put a smile on everybody's face this holiday season.
Pumpkin Mousse Parfait
Prep Time: 30 minutes
Assembly Time: 10 minutes
Yield: Serves 4
Pumpkin Mousse Ingredients:
3 1/2 oz. BAKERS white chocolate
1/2 cup canned pumpkin
1/8 teaspoon salt
1 teaspoon vanilla extract
1 cup heavy cream
Cheesecake Pudding Ingredients:
JELL-O vanilla instant pudding
4 oz. softened cream cheese
Chocolate Mousse Ingredients:
3 1/2 oz. BAKERS semi-sweet chocolate
1/8 teaspoon salt
2 tablespoons sugar
1 cup heavy cream
Spiced Walnuts Ingredients:
1 cup walnuts
1 teaspoon ground cinnamon
1/2 teaspoon ground ginger
a pinch cayenne pepper
a pinch salt
Follow box instructions and make the vanilla pudding. Add cream cheese and beat well, using paddle attachment of an electric mixer. Pass through a sieve to make sure it is very smooth. Chill until ready to use.
Using a double boiler, melt the white chocolate. Add pumpkin, salt and vanilla extract. Mix until thoroughly combined. Cool.
Using an electric mixer, beat the cream until stiff peaks form. Add pumpkin and beat another 10 seconds.  Using a rubber spatula, fold in pumpkin combination until thoroughly combined.
Transfer to a bowl with a lid and place in the refrigerator until ready to use.
To make the chocolate mousse layer, melt the semi-sweet chocolate in a double boiler. Add sugar and salt and mix to combine. Cool.
Using an electric mixer, beat the cream until stiff peaks form. Add chocolate and beat for 10 seconds. Using a rubber spatula, fold in the chocolate until thoroughly combined.
Toss walnuts with cinnamon, ginger, pepper and salt. In a dry skillet, place the walnuts and spices. Roast for 5 minutes on medium heat until they change color and become aromatic.
To assemble desserts, place a little of the chocolate mousse on the bottom. Top with a little of the pumpkin mousse. Sprinkle some of the walnuts on top. Top with some vanilla pudding and a final garnish on top with some more nuts.
Present these and everyone will think you slaved over the stove for hours..but it'll be your little secret…with a few cost efficient KRAFT products, these desserts are easily put together for your holiday meal.
I would love to see how you #SweetentheSeason with Kraft products. See here for some inspiration….and coupons too.