Last Updated on December 14, 2020 by Chef Mireille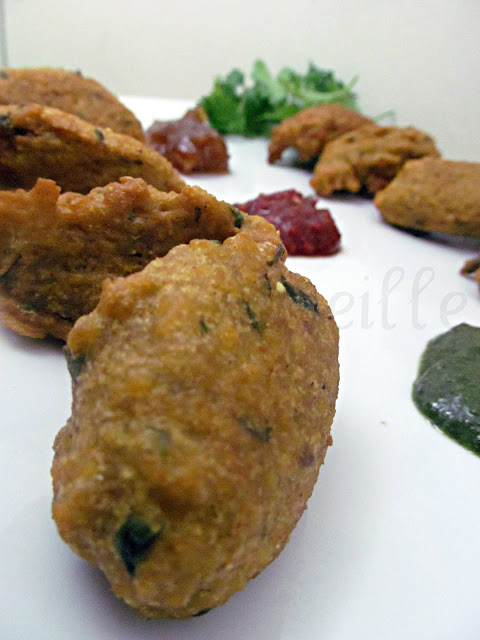 Blogging Marathon #22
Theme: Pakodi Masti
My last pakoda for this week's theme uses one of my favorite vegetables – plantain. Plantains are very common in Caribbean households. I grew up eating this almost on a daily basis. It's used extensively in soups and stews. On special occasions, it was fried, but usually it was simply boiled and used to complement the rest of the meal. In this pakoda, I combined my plantain obsession with some simple Indian flavors.
Plantain Pakoda
(click here for printable recipe)
Ingredients:
2 green plantain
1/2 cup cornmeal
1 cup chickpea flour/ besan
1/2 teaspoon red chile powder (cayenne)
1 tablespoon ginger garlic paste
2 teaspoons garam masala
1 teaspoon ground turmeric
2 teaspoons salt
2 cups water
2 tablespoons cilantro, finely chopped
oil, for frying
Bring a pot of water to a boil. Cut plantains in half.
Add plantain and cook for 8 minutes, until slightly under cooked. Drain immediately and run cold water over the plantain. As soon as they are cool enough to handle, peel and grate.
Combine the plantain with all of the other ingredients and process well in a food processor.
Heat a pot with enough oil for deep frying to 350 F.
Take a tablespoon at a time of the batter and drop in the hot oil. Fry until golden brown on all sides.
Serve with chutney or hot sauce.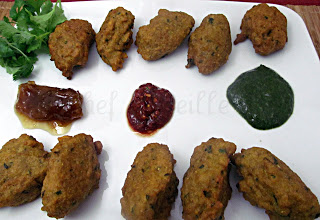 Check out the Blogging Marathon page for the other Blogging Marathoners doing BM#22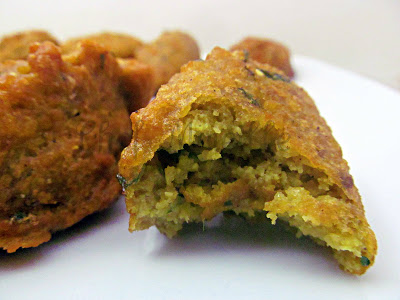 LIKE THIS RECIPE? LEAVE A COMMENT..I LIVE FOR THEM!
Chef Mireille
Like me on FACEBOOK!
Follow me on TWITTER!