Last Updated on June 6, 2015 by Chef Mireille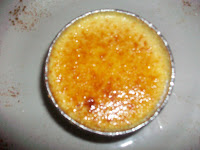 The Pearl Room of Bay Ridge was where I decided to celebrate Brooklyn's Dine In Brooklyn week.
The appetizers and entree was an indication of why they received the 2009 Michelin award. The tomato salad included perfectly cooked chickpeas, fresh Parmesan with a tasty reduction sauce. Very light and fresh tasting – it was absolutely delicious. The main entrees were just as delicious – Pan Seared Tilapia with Beetroot Ginger Reduction and Proscuitto wrapped Pork with Swiss Chard were the highlights. The pork was perfectly cooked – moist and tender on the inside, covered with crispy proscuitto.
The desserts, on the other hand, left a lot to be desired. Small portions, the cheesecake took about 2 bites to finish. Presentation also did not represent well this caliber of restaurant. The creme brulee was served in little foil tins. It looked like the little containers of flan you get from local Spanish bakeries. Flavor and taste did not make up for the lack of presentation. The cheesecake and tiramisu were mediocre at best and the creme brulee was too milky.
They do get an A+ for service. Very attentive and friendly staff who were ever present catering to our every need, but never overbearing.
In short, The Pearl Room is worth a visit for their food, but go somewhere else for dessert.

Chef Mireille
https://www.globaltasteinc.com
Like me on FACEBOOK!
Follow me on TWITTER!