Last Updated on May 20, 2015 by Chef Mireille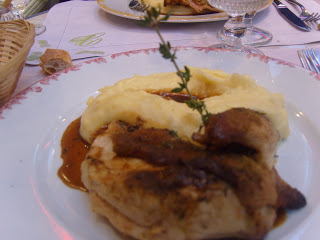 I have been away in Paris, which is why I have not been blogging. It was a culinary tour, of course and although the food was great and I had a great time, I think Paris is overstated by most people.
Don't get me wrong – I had a really good time and enjoyed some great meals but I have known people who return from Paris and just oooh and aaah over everything. Paris is a very diverse city as it has always been because of their colonization of many African/Middle Eastern countries, as well as the Caribbean. Unfortunately, due to the limited time I had there, I did not have time to try the Ethnic cuisine of Paris.
If you are part of the foie gras and beef tartare loving community, I am sure you will think Paris cuisine is out of this world, but for this chef, whose culinary preferences lean towards Caribbean and Asian foods I felt the food in Paris left a lot to be desired. For example, I was eating at a very nice restaurant, sort of an upscale Applebee's enjoying some fabulous lamb chops and on the table next to me, here comes the waitress with a large burger of raw, ground meat and a raw egg is cracked in the middle of it and here is this young man mixing it all together and eating a raw burger. Thank God his table was a little behind me so I did not have to look at it, while I enjoyed my dinner.
Some things the French do fabulous – like hot chocholate not the mediocre instant chocolate made with water you get here, the choocolate here reminds me of the hot chocolate I would get as a child from my mother – fresh cocoa grated and boiled with milk and in France it is topped with chantilly whipped cream – heaven on earth! and mashed potatoes (see attached photo) might seem like something so simple but there it is so light and buttery it just melts in your mouth
With the Euro, expect to spend a lot of money on food and pretty much everything else – a small bottle of water will cost you about $5 US.
Overall, Paris is worth a visit to see things that are unique to Paris – the Mona Lisa at the Louvre, the Eifel Tower at night and if you are into raw beef and duck liver – it is definitely worth the trip! For me, the trip was worth it more for the sights than the food.
I still plan to return to France – hopefully to do the south of France next time – I think I will enjoy that cuisine better – with Coq Au Vin and the like! – Hopefully, you all can join me on that tour!!
All comments are always appreciated!!
Chef Mireille
https://www.globaltasteinc.com
Like me on FACEBOOK!
Follow me on TWITTER!