Last Updated on December 16, 2020 by Chef Mireille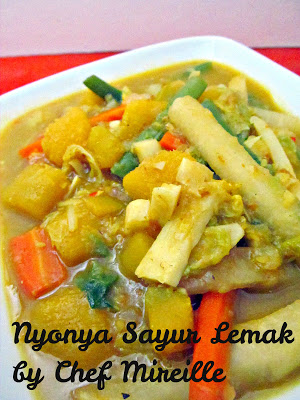 Blogging Marathon #25
Theme: Cooking with Alphabets – S, G, N
Malaysian food and culture was celebrated with great fanfare a few days ago in New York City's Bryant Park. For two days, people headed out with temperatures hovering around 30 F to a tent in the middle of the park to watch food demonstrations, try food samples from several local Malaysian restaurants and enjoy the multi-cultural Malaysian dancers with their fusion of Indian, Chinese and Malay dance.
Here's some video I took of a Malaysian chef making Roti Canai. It really is an art form.

I was planning on making this dish anyway for my BM theme this week for the letter N, but after enjoying a container of Mee Laksa (a spicy soup of noodles and shrimp), I felt especially inspired to continue the Malysian theme of the week.
Nyonya is the name of the local people of Malaysia. This is a popular vegetable dish cooked in coconut milk. It can be made with any variety of vegetables and usually includes tofu, however since tofu and I don't like each other, there is none in my version here.
Nyonya Sayur Lemak
Serves 6
Ingredients:
1 fresh bamboo shoot, peeled and sliced (approximately 1 cup) (you can use canned bamboo shoot, if you don't have access to fresh)
4 oz. green beans, trimmed and snapped in half
6 oz. jicama peeled and cut into french fry size pieces
1 carrot, peeled and cut approximately the same size as the jicama
2 cups firmly packed Napa cabbage, sliced
13 oz.. pumpkin, cut into large dice
1 tablespoon oil
13.5 oz. can coconut milk
13.5 oz. water
3 candlenuts, aka as Kemiri nuts
1 tablespoon dried shrimp, reconstituted in boiling water for 5 minutes (omit if you are Vegetarian)
2 red bird's eye chiles
5 shallots, peeled and quartered
1/2 teaspoon ground turmeric
1/2 teaspoon shrimp paste/ belachan (substitute fermented tofu if you are Vegetarian)
salt, to taste
Using a food processor, grind the candlenuts, dried shrimp, chiles, shallots, turmeric and belachan together to a paste consistency.
Heat oil. Add spice paste and fry for 3-4 minutes, until fragrant.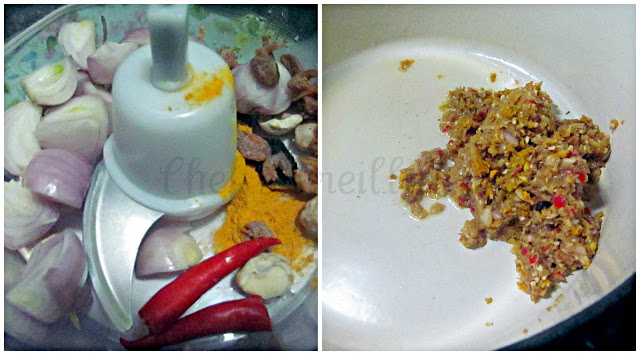 Add the coconut milk. Fill the can with water and add that to the pot also. Bring to a boil.
Add pumpkin. Reduce heat to medium and cook on a high simmer for 8 minutes.
Add carrots and green beans. Stir and cook for another 5 minutes.
Add cabbage, bamboo shoot and jicama. Stir for 1-2 minutes, until cabbage starts to wilt. Bring back up to a boil. Reduce heat to medium and cook on a high simmer for 5 minutes.

Add salt, to taste.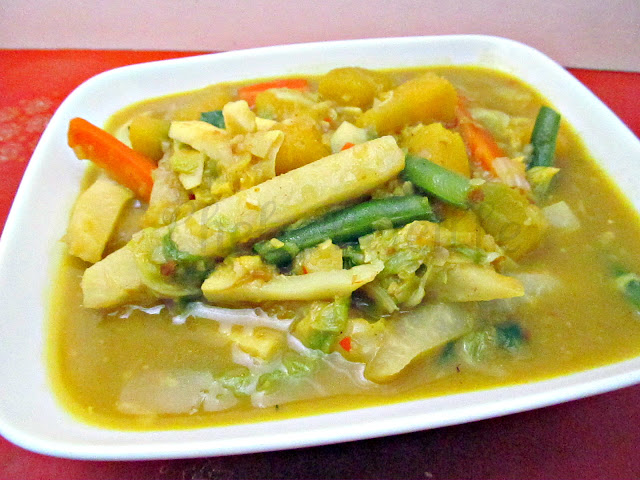 Serve with Jasmine Rice.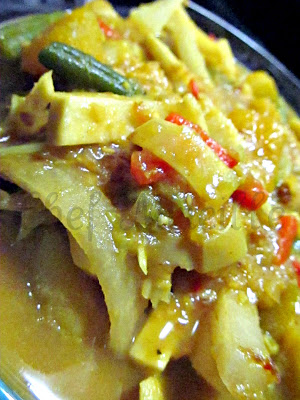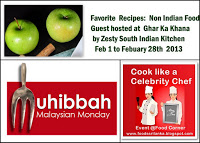 …linking to Favorite Recipes: non-Indian food hosted by CookCookandCook, Cook Like a Celebrity Chef & Muhibbah Malaysian Monday
LIKE THIS RECIPE? LEAVE A COMMENT..I LIVE FOR THEM!
Chef Mireille
Like me on FACEBOOK!
Follow me on TWITTER!