Last Updated on July 18, 2015 by Chef Mireille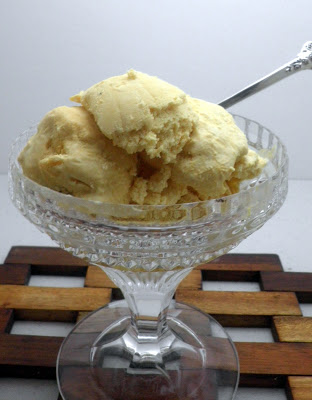 Frozen fruit pulp is the best way to get exotic fruits that may not be available where you live, as mentioned yesterday.
The first time I tried Lucuma Ice Cream was at Urubamba Restaurant. It is a Peruvian fruit that has an indescribable heavenly taste…kind of like a custardy mango Once you taste it, it will become your favorite, as it has become mine. It's the most popular ice-cream flavor in Peru. Lucuma Ice Cream is a rich ice-cream that is traditionally made with evaporated milk, heavy cream and many egg yolks. Triple Rich. I wanted to still be able to enjoy the delicious flavor of this unique fruit, but without all the triple-rich fats. Another plus to this recipe is it does not require an Ice-Cream machine.
Is it going to taste like the rich & heavenly creamy Lucuma Ice-Cream you get at Peruvian restaurants…no way! However, this is a still delicious way to enjoy this heavenly fruit, with a fraction of the calories, sugar & fat! Lucuma is such a rich tasting fruit that you will not notice the difference!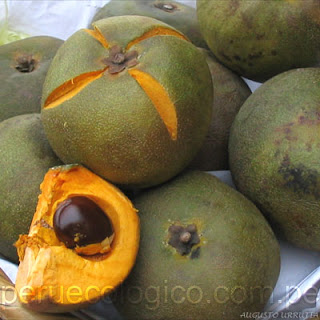 Lucuma Fruit
Lucuma Ice-Cream
Ingredients:
4 cups heavy cream
1 cup sugar
1 teaspoon vanilla extract
15 oz. Lucuma pulp, defrosted
Beat cream until you have a whipped cream consistency. I beat using the whisk attachment with my Kitchen-Aid Mixer on speed 6 for 3 minutes.
Add sugar, vanilla extract and Lucuma Pulp. Switch to paddle attachment and beat well until thoroughly combined, about 2 minutes. With a rubber spatula, mix again a few times so that fruit pulp is thoroughly combined with the cream.
Place in a container with an air-tight lid in the freezer and freeze overnight.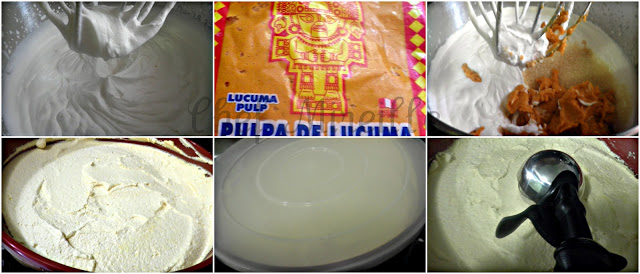 Light, airy ice-cream..perfect to enjoy on a hot summer day!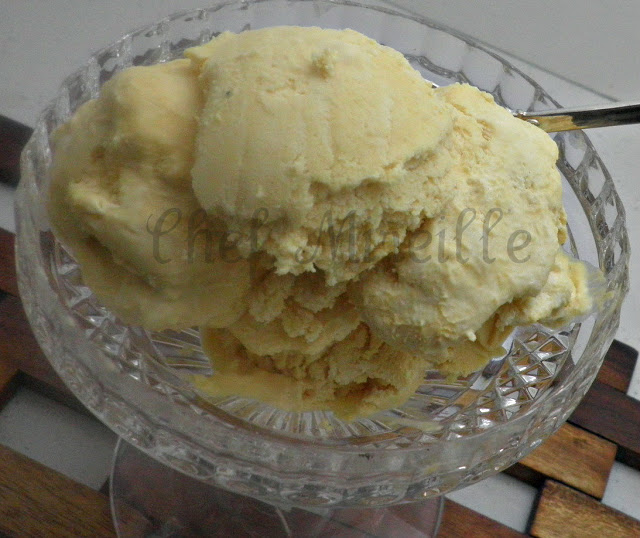 Visit the Latin Market in your neighborhood and try this delicious ice-cream with Lucuma fruit pulp…you won't be disappointed!
If you've never had Peruvian food, I definitely encourage you to find a local restaurant near you or try making some of their specialties from this site. Except for Suriname, where much of my family originates, it is my favorite South American cuisine. One of the spiciest of Latin American cuisines, they cook with a lot of pepper pastes and have a varied cuisine with their Andean, African and Spanish roots. They have given the world quinoa – the SUPER GRAIN!
Check out the Blogging Marathon page for the other Blogging Marathoners doing BM#16
…linking to My Culinary Creations' Ice Cream event, Sumee's Bon Vivant – Fruits, Daily Cuppa Scream Ice Cream and Akila's Dish Starts With L