Last Updated on May 20, 2015 by Chef Mireille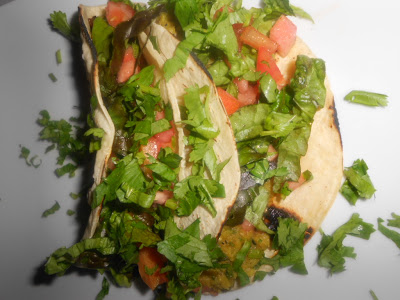 Indian cuisine and Latin cuisine use many common flavors and are able to seamlessly merge, as demonstrated by the popularity of Maneet Chauhan's cuisine at Vermilion. With the least expensive entree on the menu at $22, I have not yet had the opportunity to visit Vermilion. I am going to try to go during Restaurant Week, so I can experience her fusion cuisine. Inspired by this concept, I created a recipe for Indo-Mex tacos.
I am continuing my global theme in the Blogging Marathon, with this fusion cuisine recipe, that would not be possible if I lived in another city where I could not get paneer and Mexican tortillas. A few weeks ago, I posted a recipe for Mexican Pork and Black Bean Tacos. The tortillas come in packages of 100, so I had a bunch of leftover tacos, so I decided to do a twist on the Mexican classic and created these vegetarian Indo-Mex tacos.
Intead of black beans as used in the Mexican tacos, I used stewed lentils.
Lentil Sauce
Ingredients:
1 cup Masoor Dal (red lentils)
3 cups water
1 teaspoon ginger paste
1 teaspoon garlic paste
1/2 teaspoon turmeric
1 tablespoon Panch Puran (more info on this spice blend here)
1 teaspoon mustard oil
2 chiles, split
2 tablespoons cilantro, finely chopped
Salt, to taste
In a saucepan, bring dal, water, turmeric, ginger paste and garlic paste to a boil. Reduce to a simmer and cook for 20 minutes, until tender, stirring occasionally..
While the dal is cooking, heat a small skillet. Heat the mustard oil and add the Panch Puran and the chiles and cook for about 5 minutes, until spices are roasted and golden brown. Let cool.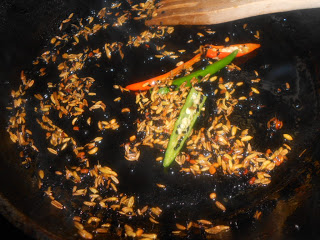 Using a mortar and pestle or a coffee grinder, grind roasted spices and chile.
Add to cooked dal and salt, to taste.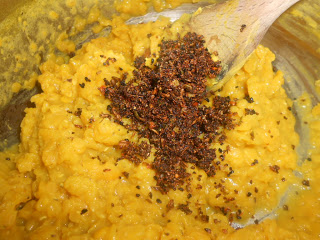 Add cilantro and stir to combine.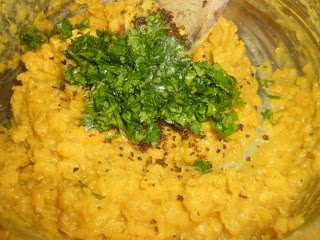 Let rest for 10 minutes, before serving. This is a semi-dry dahl. You do not want it to be too wet, otherwise, it will be leaking through the tacos.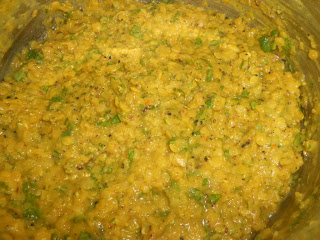 Instead of queso fresco, I used paneer.
Paneer Stir Fry
Ingredients:
1 tablespoon mustard oil
7 ounces paneer, chopped into very small pieces
1 teaspoon Dhana-Jeera powder (available at Indian/Middle Eastern markets or you can substitute 1/2 teaspoon ground cumin + 1/2 teaspoon ground coriander)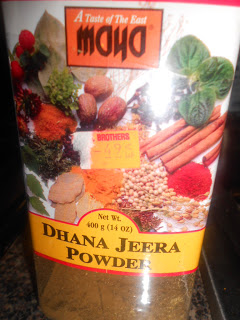 1/8 teaspoon salt
1/4 teaspoon cayenne
1/4 teaspoon turmeric
Sprinkle Dhana-Jeera powder, turmeric and cayenne on paneer cubes and toss.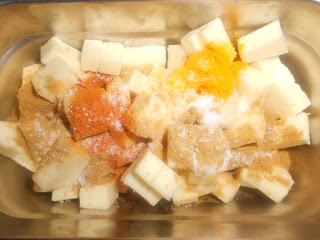 In a skillet, heat oil and brown paneer on all sides.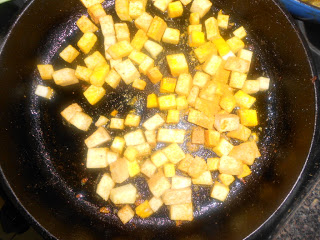 Drain on paper towels.
To make tacos, you will need:
Corn tortillas
Cooked Dal
Cooked Paneer
Chopped Lettuce and Tomatoes
Pickle aka Achar (use a sweet pickle, either sweet mango or sweet lime). I used sweet mango: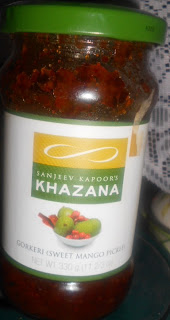 chopped cilantro (garnish)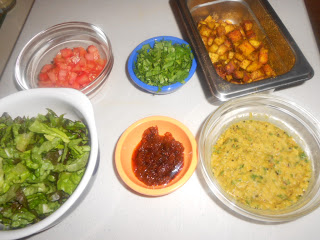 Heat corn tortillas over open fire on stove, as indicated in my Mexican Tacos recipe.
Place a little or a lot of pickle on the tortilla, according to your preference. Add some dahl.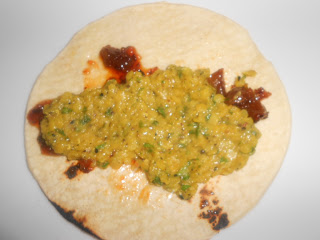 Add paneer.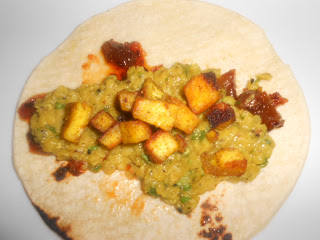 Add lettuce and tomatoes. Add a little cilantro and garnish plate with more chopped cilantro.
Serve with mango juice and a delicious weeknight dinner. The prep can be done on the weekend and all you need to do is put together the tacos.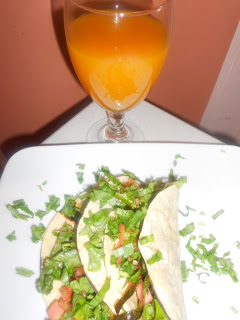 This is a great way to introduce Indian flavors to people who have never experienced this cuisine before. It is flavorful with the spices, but not too spicy. The achar (pickle) mixed with the other ingredients makes a great balance between sweet, savory, spicy and cool (with the lettuce and tomatoes).
Hope you enjoy the fusion!
Check out the Blogging Marathon page for the other Blogging Marathoners doing BM#12
Chef Mireille