Last Updated on January 12, 2020 by Chef Mireille
Herbed French Toast with Artichoke Sauce & Grilled Asparagus – This savory French Toast makes a healthy breakfast option.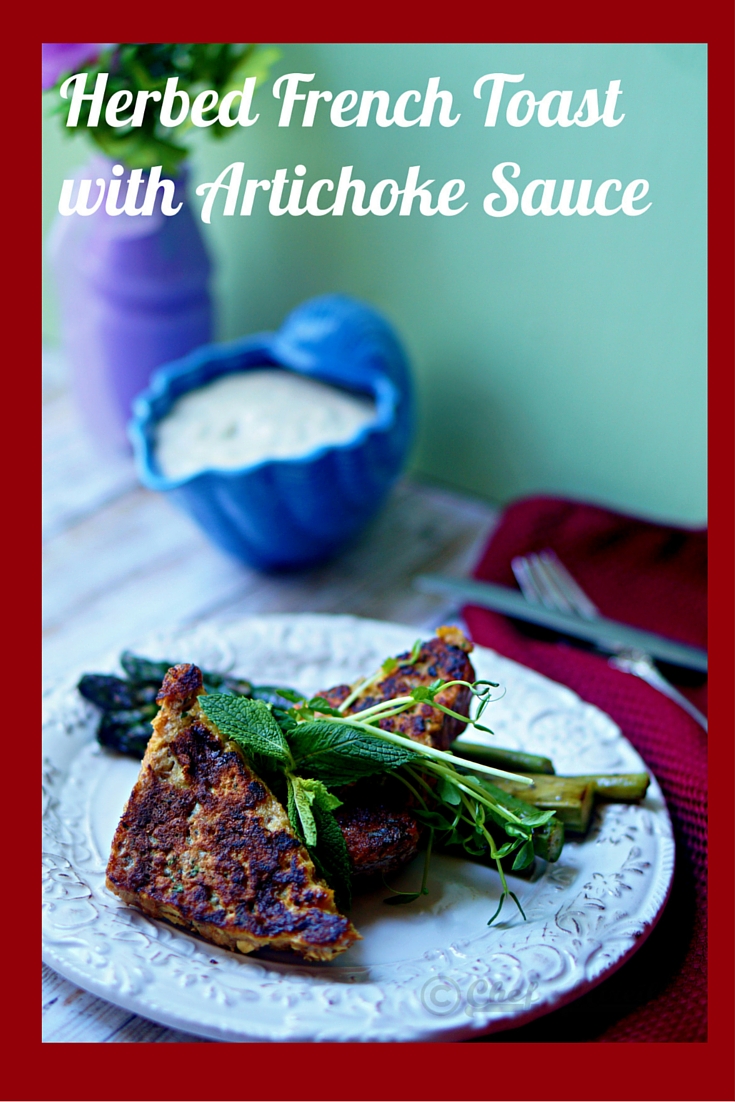 Before I get to today's post, I want to extend my heartfelt condolences and prayers to all the families of the victims in this morning's terrorist attack in Orlando. This is the largest attack us in the United States have experienced and we all feel for them. Let this horrible tragedy serve a good to unite us in empathy and not divide us!
now on a lighter note…
Yesterday, I was watching a commercial for IHOP advertising it's new Tropical Breakfasts consisting of waffles loaded with fruit and things like caramel sauce…not to mention the syrup. It looked more like dessert than breakfast to me. I looked at the television and just envisioned the dial on the scale going up if I ever thought of indulging in something so rich and decadent to start the day with. Not to mention I would be crashing just a few hours later after the sugar high ended. Instead I went to my Reader's Digest Low Calorie Cookbook and tried this savory French Toast for a lighter breakfast. I only made a few minor adjustments and served it with a yummy sauce that adds some calories, but still no where near the IHOP dessert breakfast. Although the book served it with broiled mushrooms and Canadian bacon, grilled asparagus works just as well.
How to make Herbed French Toast with Artichoke Sauce & Grilled Asparagus
A delicious savory breakfast!
This breakfast is herbaceous and flavorful. The pea shoots compliment the flavors well with their minty and peppery flavor. Even with the rich and creamy sauce, you won't feel like you need a nap after eating this meal.
Herbed French Toast with Artichoke Sauce
Ingredients
4

eggs

4

tablespoons

milk

1

tablespoon

finely chopped mint

1/2

teaspoon

finely chopped tarragon

1/4

teaspoon

paprika

1/4

teaspoon

salt

oil

for frying

6

bread halves

Sauce Ingredients:

2/3

cup

heavy cream

2/3

cup

artichoke dip

1

tablespoon

lemon juice

Asparagus Ingredients:

1

bunch asparagus

1

tablespoon

olive oil

salt and pepper

to taste

Garnish Ingredients:

mint sprigs

sweet pea shoots
Instructions
In a bowl, combine eggs, milk, parsley, mint, tarragon, paprika and salt. Whisk well.

Using a good quality wheat bread, cut bread slices in half diagonally.

Heat a little oil in a skillet, just enough to coat the bottom of the pan.

One at a time, dip the bread slices in the egg mixture. Make sure it is well coated on both sides. Place in the skillet and fry 2 minutes on each side, until golden brown.

Toss asparagus with olive oil, salt and pepper.

Use a grill pan or a grill if you have and grill asparagus until crisp tender.

To make sauce, combine all ingredients and mix well.

To serve, garnish with mint and pea shoots.
Did you try this recipe? Leave a comment below.
Please follow me on Instagram @chefmireille or tag me #chefmireille with your pics! I'd love to share them!
Don't forget to visit the RECIPE INDEX with over 1000 recipes from around the world including lots of Vegetarian Recipes and Gluten Free Recipes!