Last Updated on January 10, 2020 by Chef Mireille
With this Greek Herb & Cheese Flatbread, no one will ever think of Meatless Monday as boring. The dough can be made in advance, so then it's just to add some delicious toppings and bake or grill it.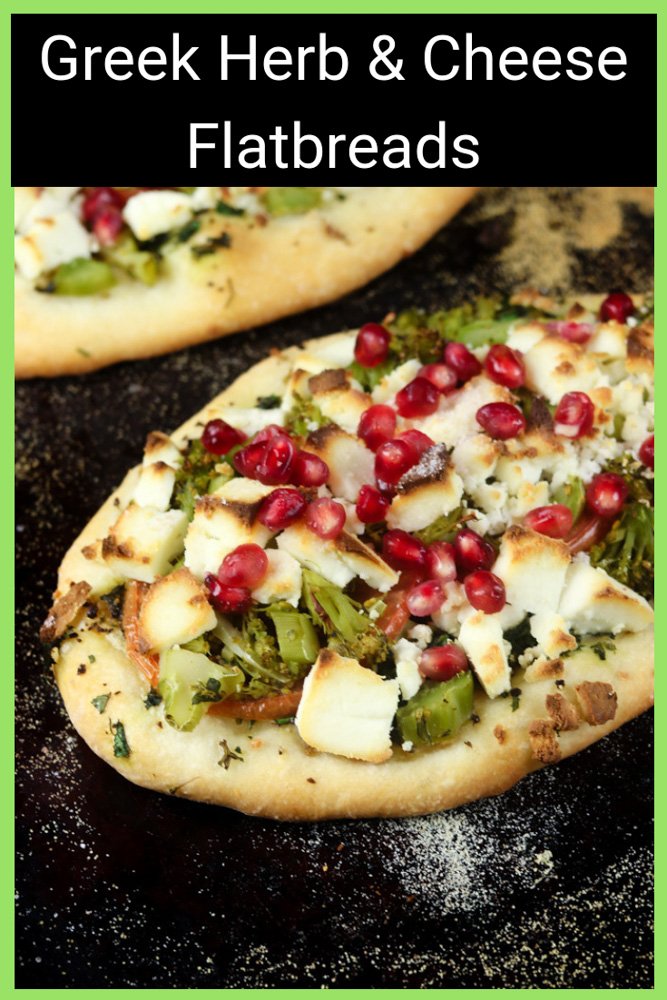 Looking for a delicious and interesting way to transform your holiday leftovers? How about putting them on top of a delicious flatbread? I used some broccoli on this flatbread, but maybe you have some leftovers roasted or sauteed mushrooms. Any vegetable like bell peppers, zucchini, eggplant, mushrooms, spinach can be used instead of the broccoli and tomatoes in this recipe.
Once you have the base dough made, then this comes together quite easily.
In my cold winter apartment, the dough took about 2 hours to rise, but it may take less depending on the climate where you live.
Want to make it a complete meal and add a Greek dessert to compliment this Greek flatbread for dinner? Here are some Greek desserts you might want to check out!
Greek Desserts
The Flatbread Dough
The dough can be made in advance. You can put the dough together and then put in the refrigerator for a slow overnight rise. Then just bring to to room temperature and then use normally.
This flatbread can also be cooked on a grill, instead of the oven.
HOW TO MAKE GREEK FLATBREAD

It can be cut into small pieces to serve at parties.

However, this is so delicious, you may not want to share!

Greek Herb Cheese Flatbread
Greek Herb Cheese Flatbread makes a delicious addition to any party platter. A great addition to your Superbowl party! Also a great summer recipe for the grill!
Ingredients
Topping Ingredients
¼

cup

finely chopped mint

¼

cup

finely chopped parsley

olive oil

1

teaspoon

alleppo pepper

1

sliced tomato

2/3

cup

chopped cooked broccoli

or other vegetable

6

oz.

chopped manouri cheese

or halloumi

Sliced olives

optional

2

tablespoons

pomegranate seeds

semolina/cornmeal
Instructions
In a large bowl, combine flour, salt, yogurt and oil.

In a shallow bowl, combine warm water with sugar and stir to combine.

Sprinkle yeast on top and leave for a few minutes, until it becomes foamy.

Add to flour and knead for 5-10 minutes until you have a dough that is smooth and elastic.

Place in a lightly greased bowl. Cover with plastic wrap and a kitchen towel. Leave to rise in a warm place until doubled in size, up to 2 hours.

Preheat oven to 425 F. Sprinkle a little semolina or cornmeal on a cookie sheet.

In a small bowl, combine the parsley and mint and stir to combine.

Divide dough into 2 pieces.

On a lightly floured surface, roll out each dough to a 7-8"" oval

Brush the top with olive oil.

Sprinkle alleppo pepper on top.

Sprinkle with chopped herbs.

Add sliced tomatoes on top.

Sprinkle broccoli on top.

Add manouri on top.

Transfer to prepared cookie sheet.

Bake for 20 minutes.

Garnish with pomegranate seeds.

Slice and serve.
Notes
You can use halloumi cheese, manouri or feta cheese. If you would prefer more of a melted cheese closer to pizza, but still keeping it Greek, use  grated Kasseri cheese.
You can use any leftover veggies as toppings for this flatbread.
Nutrition
Calories:
266.25
kcal
|
Carbohydrates:
24.69
g
|
Protein:
10.48
g
|
Fat:
13.99
g
|
Saturated Fat:
6.19
g
|
Sodium:
266.75
mg
|
Fiber:
1.62
g
|
Sugar:
1.96
g
Did you try this recipe? Leave a comment below.
Please follow me on Instagram @chefmireille or tag me #chefmireille with your pics! I'd love to share them!
Don't forget to visit the RECIPE INDEX with over 1000 recipes from around the world including lots of Vegetarian Recipes and Gluten Free Recipes!