Last Updated on December 14, 2020 by Chef Mireille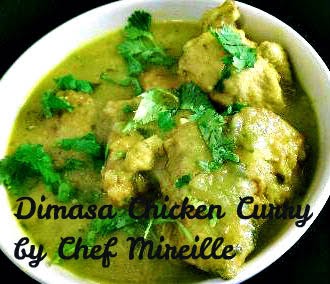 Today, we are visiting Assam. You may have heard of Assam before in terms of Assam tea or Assam chiles.
Near the Chinese border, Assam is one of the northeastern Indian starts influenced by Chinese and Nepali cuisine. Sticky Rice, Rice Flour and Black Sesame Seeds are prevalent in their cuisine, similar to Arunachal Pradesh and Meghalaya, as well as the other northeastern states.
This is a typical chicken curry in the style of the Dimasa ethnic community of Assam. Dimasa are one of many Kachari tribes, who are said to be the oldest inhabitants of the region.
Dimasa Chicken Curry
Serves 8
Ingredients:
1 whole chicken, (4 1/2 -5 lbs.), cut into pieces
6 onions, peeled and grated or processed in the food processor to pulp
4 tablespoons ginger garlic paste
15 small green chiles, slit
1 teaspoon ground turmeric
mustard oil
salt, to taste
6 tablespoons rice flour
8 cups of water
1/2 cup cilantro leaves, finely chopped (ginger leaves are more traditional)
Rub salt and turmeric on chicken pieces.
Heat oil. Add chicken pieces and fry until browned on both sides. Remove from pot.
Add onions and chiles. Saute until onions start to change color.
Add chicken pieces, ginger garlic paste and water. Bring to a boil. Reduce to a simmer and cook for about 25 minutes, until chicken pieces are cooked through.
Add 2 cups of the cooking liquid and 1/4 cup cold water to the rice flour in a bowl and mix well.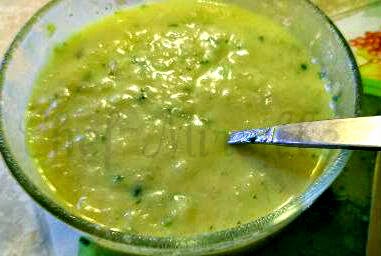 Stir into the curry. Add salt, to taste. Add cilantro and stir to mix. Remove from the heat and leave to sit for 10 minutes.

This curry is very unique with the use of onion pulp and rice flour to thicken it. The curry has a slightly gelatinous texture to it. I made this a weekend I was at my Mom's and she was having no part of the gravy with it's unusual texture, so she only ate the chicken pieces, but the chicken pieces itself were a little bland as they were only seasoned with salt and turmeric. In order to be really enjoyed fully, the chicken must be eaten with the gravy, just be prepared for an unusual texture.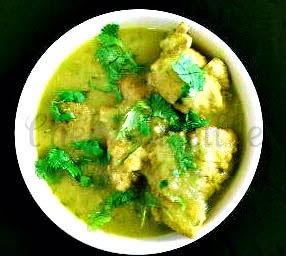 I liked it, but I must admit it is not one of my faves and probably wouldn't make it again, unless it fit into a particular theme I needed to cook for again.
Please pardon the photos as this was made without the use of my camera, so cellphone pics are a bit lacking.
LIKE THIS RECIPE? LEAVE A COMMENT..I LIVE FOR THEM!
Chef Mireille