Last Updated on November 19, 2019 by Chef Mireille
Croatian Apple Burek
Apple Burek is a sweet version of burek and is one of Croatia's most popular street foods.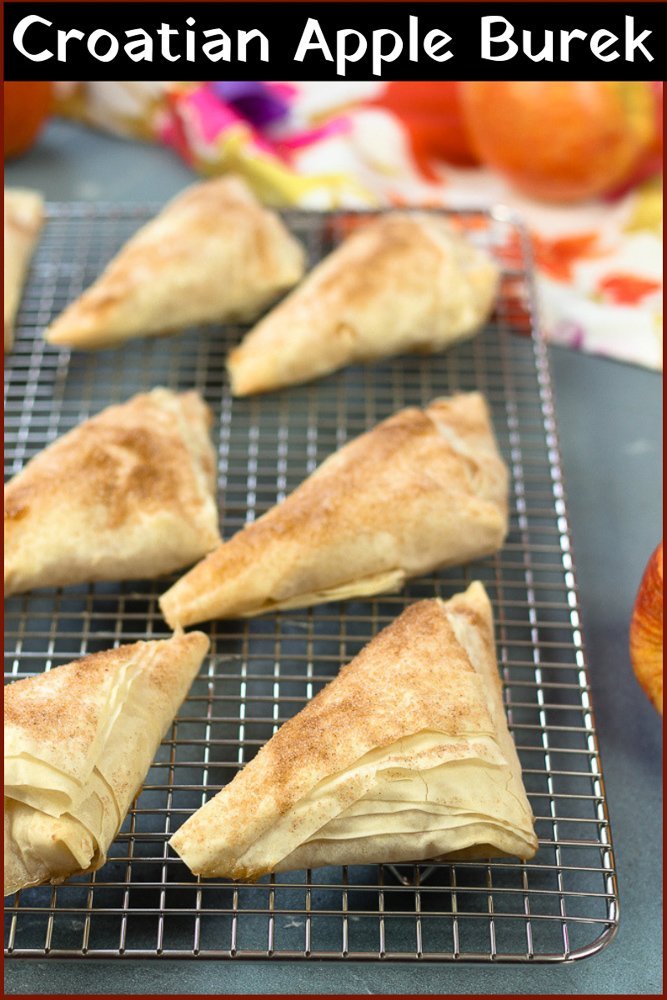 I haven't yet visited Croatia although it is on my Bucket List. Much of my extended family who lives in the Netherlands often visits Croatia for their vacations. They have told me how beautiful it is with gorgeous beaches and delicious food.
Until I make it to Croatia, I am going to have to settle with exploring their cuisine. I have already made Paprenjaci – Croatian Spice Cookies and here is another sweet treat from this Balkan nation.
Whether you call them burek, borek or bourekas, these stuffed pastries are popular from Turkey to Israel. Throughout the Balkans, Central Asia (Tajikstan, Uzbekistan etc.) and the Middle East, you will find these stuffed pastries with a variety of fillings.
Check out this Vegetable Boureka version made easy with puff pastry!
The cultural dynamic has been changing in the neighborhood right next to mine in Midwood, Brooklyn. All of a sudden a lot of Tajik and Uzbeki restaurants have been popping up. They have also been starting to appear in the mostly Russian neighborhood of Brighton Beach. Therefore, burek has now become one of my favorite snacks whenever I visit any of these neighborhoods, which are close to where I live.
Especially people from Croatia, Serbia and Bosnia take their burek's very seriously. They will all lay claim to it being created in their home country. In actual fact, it was the Turks who created burek's during the Ottoman Empire.
However, there are differences from country to country. For example, in Bosnia it has to be filled with meat to be called a burek. Everything else is called a pita (pie). Therefore, they will definitely object to this apple version being called a burek.
For Croatians, they don't care and this Apple Burek is one of the most popular street foods.
Jufka Pastry
Traditionally, in countries like Croatia, Bosnia, Serbia, Tajikstan and Uzbekistan they use a dough called Jufka/Yufka.
I always see the Jufka pastry when I go to one of my favorite Balkan markets in Midwood. This gave me the excuse to finally try utilizing it.
It is slightly thicker than phyllo so you would think it would be easier to manage right? Well, not so fast. Unfortunately, they come in 24″ diameter circles. I don't know about you, but my kitchen counter could not accommodate it.
I therefore used phyllo dough, which is almost the same and a lot easier to work with it's more manageable size.
Need some ideas to utilize the leftover phyllo dough? Try these delicious recipes!
Phyllo Recipes
IN THE MAKING – HOW TO MAKE APPLE BUREK
These are like quick and easy Apple Hand Pies and no wonder it is one of Croatia's most popular street foods!
Croatian Apple Burek
Croatian Apple Burek are quick and easy apple hand pies. Croatia's most popular street food!
Ingredients
Ingredients:
1

lb

apples

Juice of ½ lemon

¼

cup

brown sugar

½

teaspoon

cinnamon

1/8

teaspoon

salt

6

phyllo sheets

½

cup

melted butter
Cinnamon Sugar Ingredients:
½

teaspoon

cinnamon

2

tablespoons

sugar
Instructions
Preheat oven to 325 F.

Peel, core and thinly slice the apples.

In a large bowl, combine the apples, lemon juice, brown sugar, cinnamon and salt. Stir to combine. Leave for at least 10 minutes.

Line a cookie sheet with parchment paper and spray with non stick spray.

Meanwhile, let's get out phyllo ready.

Roll out phyllo sheets on a flat surface and cover with a damp towel.

On a work surface, carefully lay out one sheet of phyllo.

Gently brush with melted butter, paying special attention to the edges.

Lay another layer of phyllo on top and repeat the process.

Lay one more layer of phyllo on top and repeat the process again.

Cut the sheets into 4 equal strips by making 3 cuts vertically along the sheets.

Place a portion of apples approximately ½ cup on the edge of each strip, filling up approximately ¼ of each strip.

Fold over diagonally to form a triangle and keep on repeating until the whole strip is folded into a triangle.

Place on prepared cookie sheet and repeat for the other 3 strips.

Repeat the whole process again, until you have 8 triangles.

In a small bowl, make the cinnamon sugar by combining the ingredients and stir to combine.

Brush the tops with a little more melted butter.

Sprinkle the cinnamon sugar on top.

Bake for 30-35 minutes, until golden brown.
Notes
Defrost phyllo in the refrigerator overnight so the phyllo can be ready to use.
Nutrition
Did you try this recipe? Leave a comment below.
Please follow me on Instagram @chefmireille or tag me #chefmireille with your pics! I'd love to share them!
SHARE THIS DELICIOUS RECIPE WITH YOUR FOODIE FRIENDS
Need more culinary inspiration? Check out the Recipe Index with over 1500 Recipes from Around the World with lots of Vegetarian 🥕🍆🍅and Gluten Free Recipes!
Are you ready to make Croatian Apple Burek? I would love to see how yours came out. Share your delicious pics with me on INSTAGRAM @chefmireille #theschizochef #chefmireille
Check out the
Blogging Marathon page for the other Blogging Marathoners doing this BM#103