Last Updated on June 4, 2015 by Chef Mireille
Hello fans of Global Tastes & Travels,
First, I need to apologize in advance for the poor quality of the photos in this posting. Unfortunately, the battery to my camera went kaput, so I had to resort to my cellphone for the pics. Sorry 🙁
Now to the posting – I haven't posted a Cookbook Recipe in a long time. I once had the good intention of running this series once a month. I just couldn't keep to that schedule. To remind my old time readers and inform my new readers what this is, it's when I follow a recipe from the plethora of cookbooks I own and test them to find out how delicious…or not they are and how well the recipe is written…or not!
This recipe is for chickpea shortbread cookies, called Nan-e Nokhodchi from a cookbook I have called The Legendary Cuisine of Persia by Margaret Shaida. I have tried a few of the savory dishes from this book and they were all good. This is the first sweet recipe I tried from the book.
Her original recipe is:
Chickpea Shortbreads
1 cup chickpea flour (available at Middle Eastern markets or Indian markets under the name besan)
1/2 cup sugar
1/2 teaspoon ground cardamom
1/4 cup unsalted butter, softened
pistacchios, for garnish
Here is the instructions, with a few changes by me (my changes are in Italics).
In a bowl, sift flour, sugar and cardamom. Place the butter in the center and carefully knead the flour until the mixture holds together. (This is a very short mixture but it will eventually hold together after some kneading. An egg yolk may be used to help bind the mixture but the shortbread will be softer without.)
I tried to follow the recipe with just the butter, incorporating it much the way you would when making fresh pasta. However, the more I kneaded the more crumbly the dough became.


It was not binding, so I followed her suggestion and added the egg yolk, but it still would not bind. So I added the white and then the dough came together perfectly, so my suggestion when you follow this recipe is to use 1 egg, in addition to the original recipe.




In her recipe, she rolls out the dough first and then refrigerates it. I have always found it is much easier to roll out the dough if it is refrigerated first. I wrapped the dough in plastic wrap and refrigerated dough for 30 minutes and then I rolled out the dough.
On a floured cutting board (using the chickpea flour), roll out dough to 1/4″ thickness and cut into shapes (using cookie cutters) and place on a cookie sheet, lined with waxed or parchment paper. Keep on rolling dough back together and cut more shapes until all of the dough is used.
While the original recipe said to garnish with pistacchios after baking, I decided to do it beforehand so they would be baked into the cookie. Press 1 pistacchio in center of each cookie.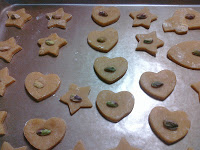 Preheat the oven to 300 F. Bake for 10-15 minutes, until cookies are set and lightly browned at the edges. Cool. Remove and eat!
While the cookies tasted delicious, I feel her recipes are not written for the amateur cook. If I did not know how to adjust accordingly, I don't think the recipe would have been successful. I found this to be also true of previous savory recipes I did. If you are an experienced cook, I would recommend her cookbook. Otherwise, you may find it difficult.
These cookies are not very sweet. This is certainly NOT going to replace your child's favorite chocolate chip cookies, but they are perfect with fruit and a cup of tea. Not to mention you get a protein filled snack, with the nut and the chickpeas!
Enjoy!
Chef Mireille