Last Updated on June 5, 2016 by Chef Mireille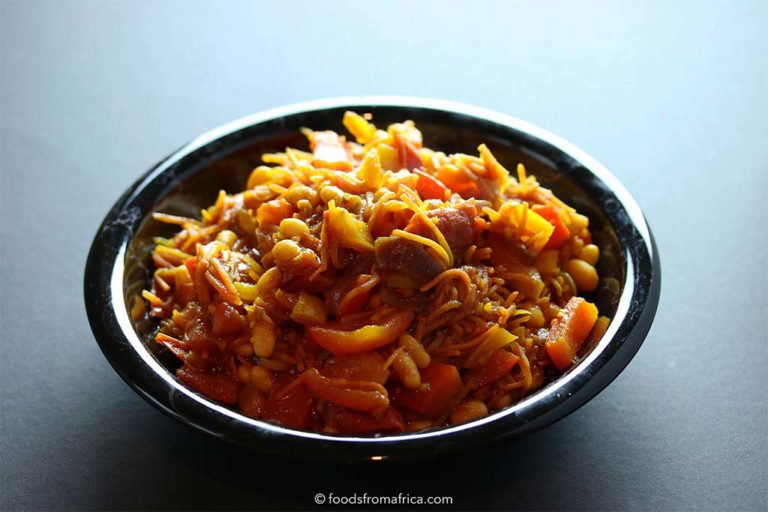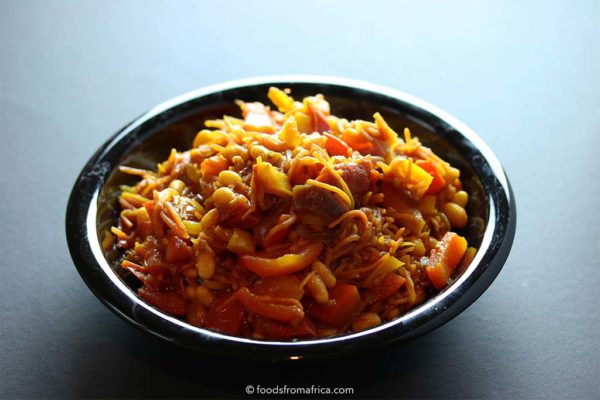 Today, I have a very special guest post from Emem, blogger at Foods from Africa. I spend a lot of time commuting back and forth between jobs and I spend much of this time catching up on social media. When I get likes on my Instagram pics from people I am not already associated with, I will often click back to their profiles and take a look. I did just that one day and found Emem. Her photos were amazing – so sharp and clear. I was already thoroughly impressed – so much that I took the time to go visit the blog. This is something I rarely do as the internet in the trains are intermittent at best and it usually takes FOREVER for a page to load. I loved her site and the recipes and now I've made another blogger friend. Similar to myself, I enjoyed reading this history of the traditional African dishes that she posts.
Before we get to her delicious post, let's learn a little more about Emem Umoren. Emem is a food blogger and freelance food photographer based in Zürich, Switzerland. She is the creator of Foods From Africa – An Afro-fusion food blog based on whole foods and healthy living.  As a recovered diabetic, Emem is a firm believer in the healing power of Real food and in food's ability to break boundaries and build communities, and is passionate about drawing on her African background to create sumptuous and nutritious meals.
If you'd like to learn more about Emem and see more of her gorgeous food, you can follow her on social media – @FoodsfromAfrica on Facebook, Twitter or Instagram.
Now let's learn about Chakalaka in Emem's words…
I first tasted Chakalaka in 2013 during a trip to South Africa. I was on a day trip to Soweto and had already had a full morning of activities. Come lunch time, I was accompanied by my trip guide to a local restaurant which came highly recommended for my authentic South African culinary experience.This is usually high on my list of priorities. You know the phrase – "when in Rome, do as the Romans do" – well, I tend to take this expression literally, especially when it comes to experiencing other cultures through food. It was love at first taste with Chakalaka. Chakalaka is known as a salad in Soweto, others term it a spicy vegetable relish. To me, it is reminiscent of a curried ratatouille with beans. Spicy, tangy, and full of flavours that jump out at you.
Chakalaka was born in the townships of South Africa and the original recipe is something close to a simple dish of onions, tomatoes, baked beans and some curry powder – Ingredients that would keep well with little or no refrigeration. This would have been an important consideration during the era of Apartheid in South Africa, given the inadequate infrastructure like electricity in townships such as Soweto at the time. The addition of curry powder, which has Indian roots comes from the influence of work migrants from the Indian sub-continent to South Africa during the late 19th century.
South Africans are known for their love of barbecue and come the summer season, every respectable barbecue or braai features Chakalaka as a side dish. Today, most South Africans have their own versions of this staple dish with some more elaborate than others. Most recipes include beans as an ingredient. I have used Heinz Baked Beans in Tomato Sauce for this recipe as I like the sweetness imparted to the recipe from the baked beans, but feel free to substitute the baked beans for boiled black-eyed beans which works just as well.
Feel free to experiment with your own variation of vegetables.
African Chakalaka Recipe
Serves 4
Ingredients
1 tablespoon olive oil
1 medium-sized onion, finely chopped
2 medium-sized bell peppers (red and yellow), chopped
2 medium-sized ripe tomatoes, roughly chopped
180g shredded carrot
1 tablespoon curry powder
1 teaspoon cayenne pepper
1 teaspoon sweet paprika
1 garlic clove, crushed or finely chopped
1 scotch bonnet pepper – deseeded
1 stock cube
1 can (415g) of Baked beans
Salt and Pepper
Method
On a medium heat setting, heat the oil in a large saucepan. Add the onions, bell peppers, and scotch bonnet pepper and fry for 2 minutes.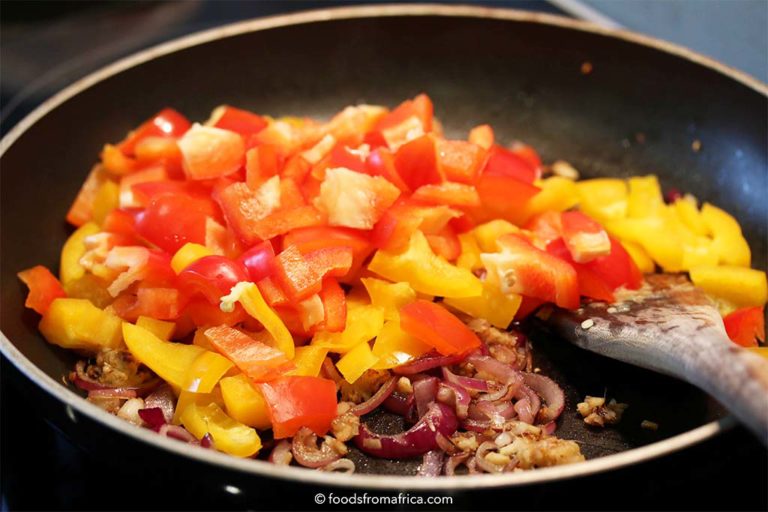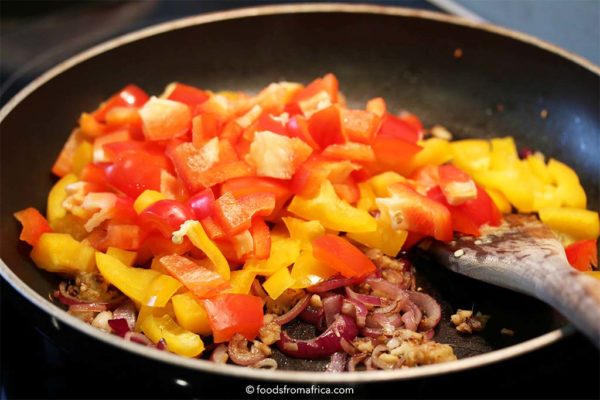 Add the spices – cayenne pepper, paprika and curry powder. Stir fry for about 1 – 2 minutes to allow the flavours to develop. Then add the shredded carrots and sauté for about 4 – 5 minutes, stirring occasionally.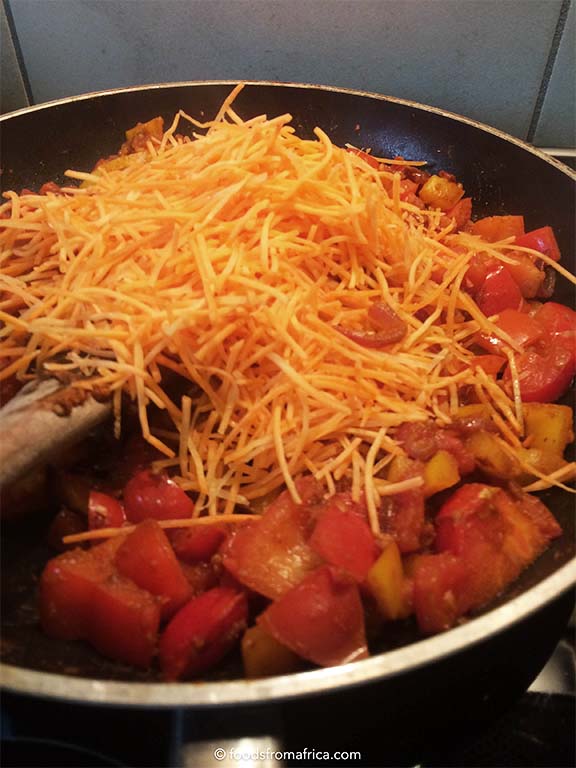 Stir in the tomatoes, add the stock cube, and season to taste. Simmer open for 15 – 20 minutes on medium heat while stirring occasionally.
This will allow the sauce to reduce (Chakalaka should not be runny or watery) and the occasional stirring prevents burning or sticking to the pan.
Serve either hot or cold.