Last Updated on May 20, 2015 by Chef Mireille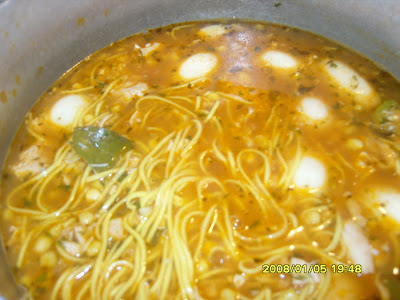 Good Morning Everyone:
Now most of you know I am a supporter of fresh food. I use very little canned food, especially vegetables. I usually take the time to use fresh products, but every once in a while I am just too lazy to go out and buy fresh produce, if I do not have it in my house.
There are some great products to always have on hand to make your food flavorful, when you don't have any onions or garlic and other produce to flavor your food. OR maybe you have a houseful of hungry kids and don't have the time to spend, chopping vegetables.
South Asian markets are wonderful – there you can purchase onion paste, garlic paste, ginger paste and garlic-ginger paste. You add a teaspoon of this to the frying pan before cooking your meat and you don't need to spend time chopping. For this recipe I am sharing with you, I did not have any garlic paste in the house, but I did have a jar of the already chopped garlic which is another great timesaver.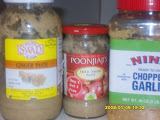 This is my recipe for Canned Soup because everything in this recipe comes from a can or a jar but this is a delicious, hearty soup – very low in fat and sodium.
Canned Soup
Servings: 6
1 teaspoon oil
2 teaspoons chopped garlic 1 teaspoon garlic paste
1 teaspoon fried onion paste
1 Scotch bonnet chili, halved
1 12 1/2 oz. chicken breast, packed in water
1 11 oz. canned corn
1 15 oz. canned potatoes
2 bunches Chinese style noodles
2 teaspoons chicken broth mix
2 teaspoons dried parsley
1 teaspoon dried oregano
1 teaspoon paprika
1 bay leaf
In a large pot, heat oil. Add garlic, ginger paste and onion paste. Saute for 2-3 minutes, until lightly browned. Add 4 cups of water and whisk in chicken stock powder to dissolve completely. Add chicken and with a whisk or potato masher, break up chicken pieces. Add Scotch Bonnet chili, bay leaf, paprika and dried herbs. Stir to combine. Bring to a boil.
Add noodles and cook for about 3 minutes, until noodles have begun to soften. Add corn and potatoes and cook for another 5 minutes.
For a complete meal, make some quick garlic bread. Take regular sliced bread and spread some butter, jarred chopped garlic and dried parsley. Put in broiler for about 3 minutes and you have some garlic bread to go with your hearty soup.
Enjoy!!