Last Updated on May 25, 2021 by Chef Mireille
Apricot Curd with Lavender is the perfect accompaniment to scones or toast. It's also great with brownies or vanilla ice cream!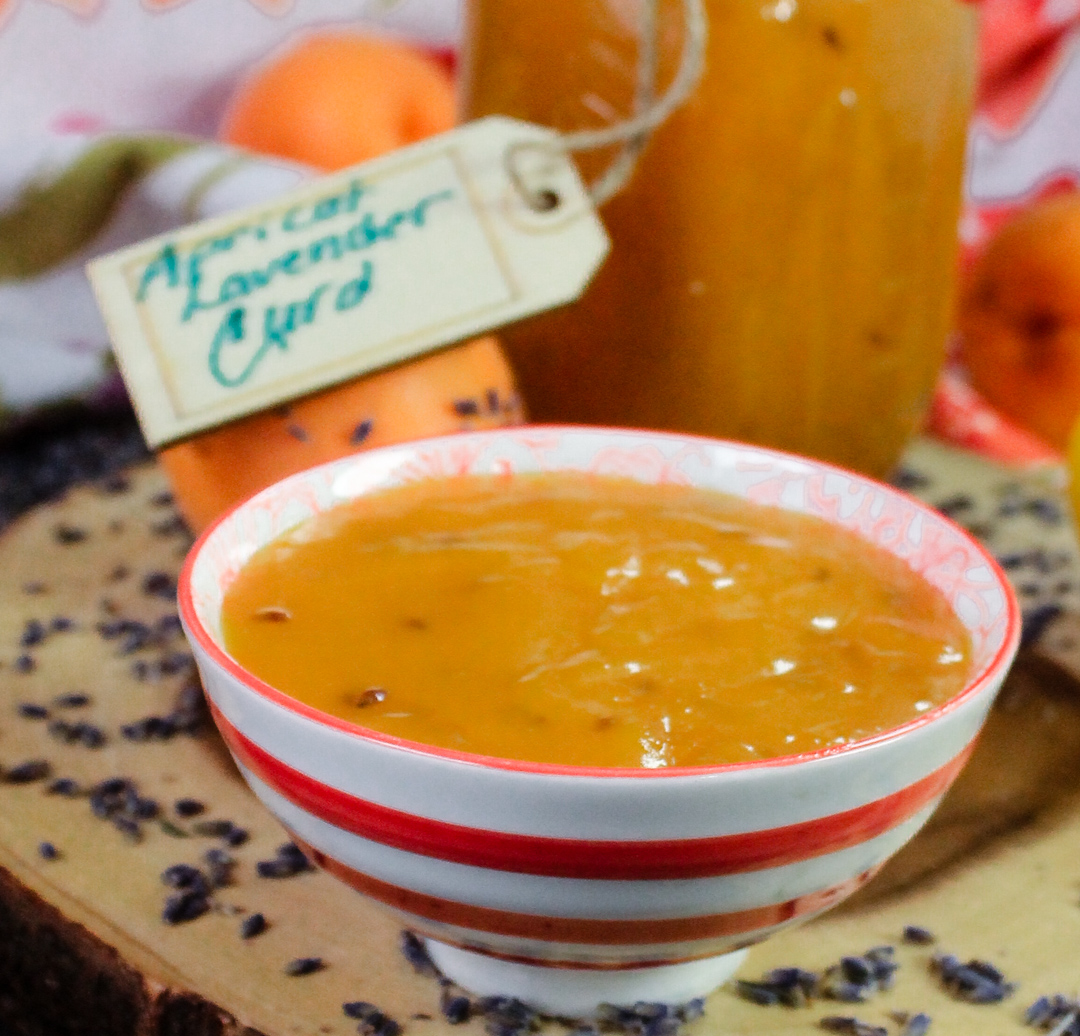 This post may include affiliate links.
British Tea Service
Curd can mean different things to different people. You say curd to someone from South Asia and they are going to think yogurt, but say curd to someone else and it is that luscious sweet-tart condiment made from lemon juice, eggs, butter and sugar that is perfect with scones.
Lemon Curd is the most traditional curd and is part of the traditional British Tea Service. British Tea Service consists of three courses – scones, sandwiches and sweets with sandwiches and sweets all served miniature sized. The scone course is accompanied by clotted cream, bitter orange marmalade and lemon curd.
In modern times, curd is now made in a variety of flavors, especially here in the US. The British hold on to their traditions and probably make faces at our modern curd flavors. Despite additions of different fruit as in this version, the lemon is still a major component which stays true to the sweet-tart flavor.
Want to create a British Tea Service Themed Party? Check out some of these options! It's a great Bridal Shower or Baby Shower Idea!
Scones
Tea Time Sandwiches includes:
Cranberry Manchego Sandwich
Lavender Halloumi Sandwich
Sweets
Lavender Sourcing and Uses
For some people, lavender is not a common cooking ingredient. It is used a lot in French cuisine. However, this does not mean if you see some lavender growing in the park or even at your local flower shop you can pick some to use. It is important to use culinary grade lavender to ensure that no pesticides or chemicals have been sprayed on it.
Lavender is a wonderful additive to drinks, curd, ice cream and any baking recipes like cakes, cookies, etc. It's also included In the Herbs de Provence spice blend which is a savory herb blend that can be used on everything from chicken to potatoes. Don't feel like if you buy lavender to try this recipe that it won't get much use. It's versatile and can be added in any of the ways I mentioned above.
These make great edible gifts – Just make sure you follow canning protocols to extend the shelf life if you are giving as a gift. Otherwise, it must be kept refrigerated. Edible gifts don't have to be reserved just for holidays. Maybe you have a sick friend or someone who is going through some personal challenges. The fact that you thought of them to make this gift from the heart will mean more to them than any expensive gift you can purchase in a store.

Use this Apricot Curd with Lavender as your next edible gift!
The luscious texture as you spread this on your toast or scones will make you feel divine and opulent. Can you imagine sharing your scones and Apricot Curd with Lavender at a royal tea with the queen? – Well we can dream right!
Once you try this curd, lemon curd will seem like a sorry backup!
Apricot Curd with Lavender
Apricot Curd with Lavender makes the perfect edible gift!
Ingredients
6

apricots

1

cup

lemon juice

½

cup

softened butter

1 ½

cups

sugar

3

eggs

1

teaspoon

lavender
Instructions
Bring a pot of water to a boil.

Make a small x on the bottom of each apricot with a sharp knife.

Add apricots to water and leave for 1-2 minutes, until the apricot skins start to come off.

Remove from boiling water and immediately place in a bowl with ice water or run with cold water.

Remove skin and pit the apricots. Puree apricots in a blender or food processor. Add lemon juice and mix to combine.

In a bowl, beat butter and sugar until crumbly.

Add eggs, one at a time, beating well after each addition.

Add lavender and mix until combined.

Add apricot-lemon juice to butter mix and beat until thoroughly combined.

Transfer to a saucepan. Bring to a boil. Make sure you use a saucepan large enough so there is extra room. The mixture will froth up a lot as it boils.

Reduce to medium heat and simmer, stirring occasionally for 25-30 minutes until thickened and the mixture coats the back of a spoon.

Chill and it will thicken more.
Notes
Makes approximately 1 1/2 cups
Did you try this recipe? Leave a comment below.
Please follow me on Instagram @chefmireille or tag me #chefmireille with your pics! I'd love to share them!
Don't forget to visit the RECIPE INDEX with over 1000 recipes from around the world including lots of Vegetarian Recipes and Gluten Free Recipes!