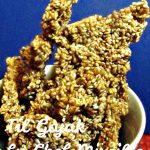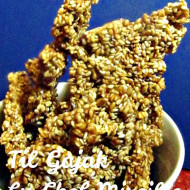 Print Recipe
Til Gajak - Sesame Seed Brittle
Til Gajak - Sesame Seed Brittle - is a popular street side snack throughout India.
1

cup

sesame seeds

3/4

cup

jaggery

powdered

2

tablespoons

ghee

1/2

teaspoon

ground cardamom

1/2

cup

water
In a dry skillet, roast the sesame seeds until golden. The aroma is AMAZING.

Prepare a cookie sheet with silkpat or parchment paper. Grease the silkpat/parchment with the ghee.

Boil jaggery with water until bubbly; about 10 minutes.

Add cardamom and sesame seeds. Immediately transfer to prepared silpat and spread in a compact even layer.

Leave to set and harden for about 5 minutes.