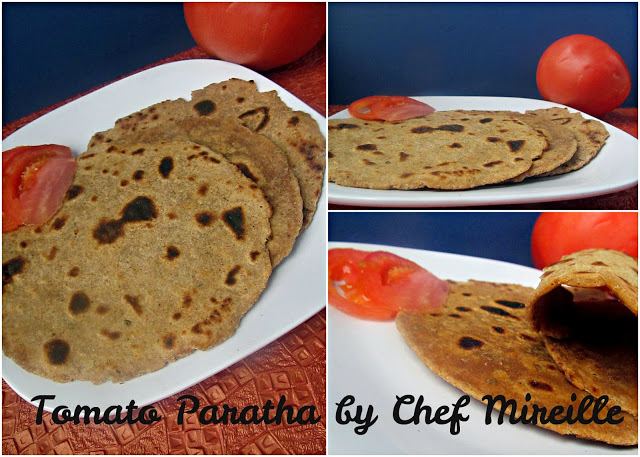 Blogging Marathon #28
Theme: Indian Breads
I took a break from Srivalli's Blogging Marathon last month because she decided to do a 30 day Mega Marathon, which was a bit too much to do, with my other life commitments. This month I'm back in and starting with the theme of Indian Breads – one has to be deep fried, one has to be stuffed and one has to be blended. I'm starting with the blended version.
Before I get to the recipe, I have to thank Sandhya for the successful shape of the parathas. When she reads this, she is going to be surprised and wonder what she did. Well, when a few of us NY BM bloggers met and had lunch at Pavani's house, I was amazed at the perfectly round shape of each paratha as mine always come out all sorts of odd shapes – never anything close to the circles I aim for. I started to watch how Sandhya worked the dough into a perfectly smooth disc before rolling out the dough. This is a step I never did in the past. I would just take a portion of dough and roll it into a circle in between my hands and then start with the rolling pin. This extra step proved to be crucial to the shape. Mine still aren't perfectly round, but they are way better than before and I am sure with a little practice, I will be making parathas into perfect circles.
I've mentioned before the differences between Indian milled whole wheat flour (chappati) and American milled whole wheat flour, which has a lighter texture. I find the best texture comes from mixing both. The dough is easier to work with and knead than using 100% chappati flour.
I've kept the spices mild so that this can be eaten with any curry. However, it still has enough flavor to be eaten simply with some sliced fresh tomatoes and chutney, which is how I had it for breakfast.
Tomato Paratha
Yield: 11 parathas
Ingredients:
1 1/2 cups chappati flour
1 1/2 cups whole wheat flour (American)
2 tablespoons ghee
1 teaspoon Kasuri Methi (dried fenugreek)
1/4 teaspoon red chile powder (cayenne pepper)
1 teaspoon salt
1 teaspoon sugar
1/3 cup pureed tomato
3/4 cup warm water
extra ghee, for brushing
In a large bowl, mix flours, salt, sugar, fenugreek, cayenne and ghee. Work the ghee into the flour with your fingers.
Add tomato puree. Add water, a little at a time until you have a soft and pliable dough. Knead for a few minutes. Place in a bowl and cover with a damp towel. Let rest for 20 minutes.
Divide dough into 11 equally sized balls.
Take one of the balls and work in your hands by kneading the dough in your hands, squeezing and pressing the dough as you pass the dough from hand to hand until you have a very smooth ball. Now shape into a smooth disc and place on a lightly floured board.
Using a rolling pin, roll into a 5″ circle.
Heat a skillet, tawa or griddle. Brush with a little ghee and place the rolled out circle on the tawa. Cook for about 3 minutes until a little puffy. Flip over and brush the top with a little ghee. Cook the other side for another 2-3 minutes.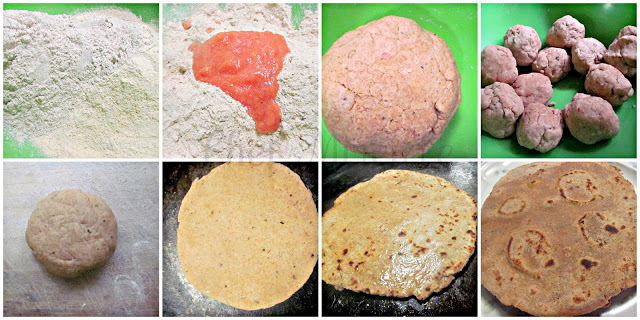 Repeat for the remaining 10 balls of paratha dough.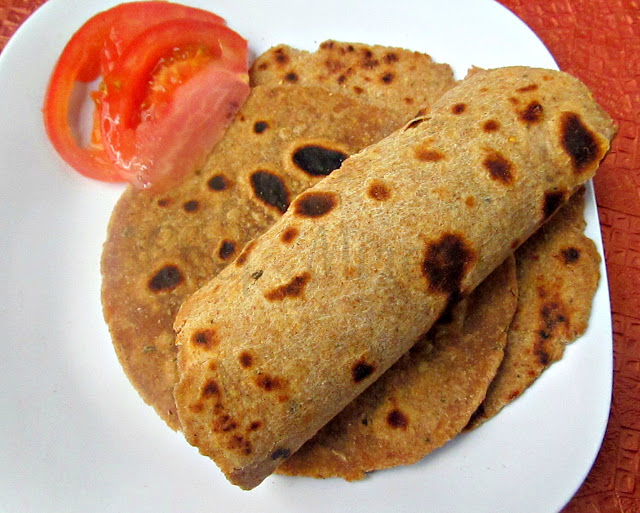 Check out the Blogging Marathon page for the other Blogging Marathoners doing BM#28
LIKE THIS RECIPE? LEAVE A COMMENT..I LIVE FOR THEM!
Chef Mireille
Sign up for our updates!
Subscribe to get our latest content by email and get your FREE Pantry Cheat Sheet - Learn the basics to cook any International cuisine!