Last Updated on May 20, 2015 by Chef Mireille
This has been a great week for foodies in NYC.
The first annual (I hope) Malaysian Hawker Cuisine night. NYC Malaysian restaurants set up street food stalls. Some of the restaurants that were there included Fatty Crab, Betel, Cafe Asean, Laut and my favorite, Nyonya. Betel's Shrimp and Picked Mango Popiah with Jicama was delicious. For $7, you received the popiah and a juice mixer made with yuzu, a Japanese citrus fruit. The fried rice from New Malaysia was bursting with lemongrass flavor and the curried potato rolls were also filled with several layers of flavor and spice.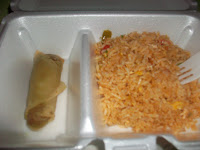 New Malaysia's Lemongrass Fried Rice
While this was a great event to bring to my hometown, some better planning needs to be made for next year's event. The crowds were unbearable, making it difficult to enjoy the delicious food. I wanted to try the curry from Laut, but the line was about 50 people deep. For a few bites of food, it was not worth the wait. There were a number of people who came and left within just a few minutes, because the crowds were claustrophobic. Many of the stalls were running out of food at just 1 hour into the event. The Malaysian performances that were promised was one female dance and one male dance about an hour into the event, totaling about 10 minutes (if that) and then hip-hop music was played afterwards.
Next year's event needs to take place in a larger area then the 9th ave/14th. st island and the restaurants need to prepare more food. The traditional music/dance should be continuous to continue with the Malaysian theme of the evening.
The second event I attended this week was the 8th annual Taste of the Village, a wonderful food and wine tasting event, featuring food and wine from some of the area's best restaurants and vineyards. This event took place under a large tent in Washington Square Park. While the event had a large turnout with crowds, there was space for you to stand or sit and eat. There was breathing room and mobility; a more pleasurable experience than Malaysian Night.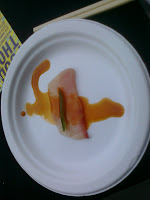 Sushi Samba's Lemongrass Tiradito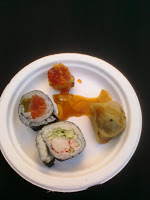 Amber's Sushi & Dumplings
The worst mac&cheese and some of the best sushi was featured at this event. A wonderful lemongrass tiradito with jalapeno was perfectly balanced with the freshness of the lemongrass and the mild heat of the jalapeno from Sushi Samba. Very flavorful sushi and dumplings were also featured at Amber. These two restaurants must be added to my list of restaurants to visit and review.
Alma II featured both chicken and beef empanadas as well as sirloin steak skewers. The empanadas were the perfect consistency with crispy outsides and moist fillings, but the chicken filling was quite bland. Eaten with chimichurri sauce and/or mango/pineapple salsa made it delicious. The beef empanada was more flavorful.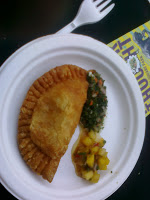 Chicken Empanada with Chimichurri & Mango/Pineapple Salsa
These types of events are essential to NYC's culinary culture. It gives you a brief glimpse of the experience you can get at many establishments, giving you insight into which restaurants you will then patronize. With so much competition and so many restaurants to choose from in this city, these are great events to help you make informed dining choices.
Chef Mireille