Last Updated on June 4, 2015 by Chef Mireille
It's that time of the month again – another Blogging Marathon (BM). For this week, my posts will be focusing on whole grains. In recent years, more grains have become available on the market. From a child, my parents always used whole wheat bread and being from the Caribbean, hot breakfast cereal included cornmeal and cream of wheat. The only other grains we ate were rice and pasta. In the last few years, I have incorporated quinoa and wheat berries into my diet. Quinoa is one of the few foods in the world that include all of your amino acids and has become very popular in recent years.
When I decided to do the theme of whole grains for the BM, I went to my local food coop, where I shop and decided to use this opportunity to try some of the grains I have never used before. They had quite a selection – rye berries, spelt berries, farro, sprouted spelt berries and the list goes on. They even had sprouted lentils and other legumes.
I created this Persian inspired pilaf recipe, using rye berries for the first time. Rye berries are very good, as an alternative to wheat. In 1/3 cup of uncooked rye berries, there is 34% of the recommended daily intake of fiber. As such, very little is very filling, therefore, it promotes weight loss as well.
Spaghetti Squash-Rye Berry Pilaf
1 cup rye berries, soaked overnight in water
1 teaspoon oil
1/2 teaspoon brown mustard seeds
1/2 teaspoon yellow mustard seeds
1 small spaghetti squash
3 carrots, grated
1 onion, chopped
1 clove garlic, finely chopped
2 cinnamon stick
4 green cardamom pods
2 tablespoons currants
1 pinch saffron threads
1/2 teaspoon paprika
1/4 teaspoon ground cayenne
salt and pepper, to taste
1 tablespoon pine nuts
1 tablespoon pistacchios
1 tablespoon cilantro, finely chopped
Preheat oven to 400 F. Spray a cookie sheet with non-stick spray.
Cut squash in half and place cut side down on cookie sheet. Place in oven for 20-30 minutes, until the flesh is fork tender. Scoop out the flesh. It will shred and look like spaghetti, hence its name.
Drain rye berries.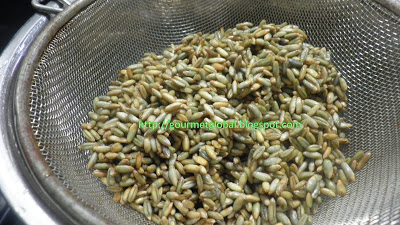 Rye Berries, soaked overnight
In a large saucepan, heat oil and mustard seeds. As soon as they start to pop, add cinnamon stick and cardamom and roast for a few minutes. Add onion and garlic and saute for a few minutes, until vegetables are softened.
Add squash and carrots and stir-fry for 1-2 minutes.
Add 2 1/2 cups water, saffron, paprika, cayenne, currants, salt and pepper and bring to a boil.
Add rye berries and bring back to the boil. Reduce to a simmer and cook for about 40 minutes, until fork tender.
In a small skillet, toast pine nuts and pistacchios for a few minutes until golden.
Add nuts and cilantro and stir to combine. Taste and adjust salt, if necessary.
Submitting recipe to Spicy Treats' Fiber Rich event
…and don't forget to Check out the Blogging Marathon page for the other Blogging Marathoners doing BM#14
Chef Mireille