Last Updated on December 14, 2020 by Chef Mireille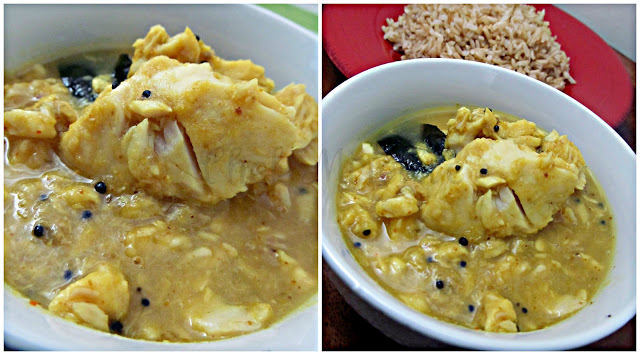 Recently, I came home with some tilapia fillets and decided I wanted to try a new recipe with them, instead of my usual fish recipes I do. I had saved this recipe for a Mangalorean Pineapple Chicken Curry a while ago on one of my Pinterest boards. I changed a few things and made it into a Fish Curry. This is a delicious sweet and tangy curry I hope you enjoy and are tempted to try yourself.
Mangalore is a port city located on the western coast of southern India. It has a tropical climate. Due to its location, fish is a major part of Mangalorean cuisine, along with coconut. Here is my version of a Mangalorean style Fish Curry.
Pineapple Fish Curry
(click here for printable recipe)
Ingredients:
2 1/2 pounds tilapia fish fillets, cut into large pieces
2 tablespoons tamarind pulp
1/2 cup boiling water
1/2 pineapple, peeled, cored and chopped
1/2 teaspoon red chile pepper (cayenne pepper)
1 teaspoon ground turmeric
1 tablespoon palm sugar
salt to taste
1 1/2 teaspoons sesame seeds
1 1/2 teaspoons fenugreek seeds
1 1/2 tablespoons grated coconut
1 tablespoon oil or ghee
1 teaspoon mustard seeds
7 curry leaves
In a dry skillet, roast sesame seeds, fenugreek seeds and coconut for a few minutes, until golden.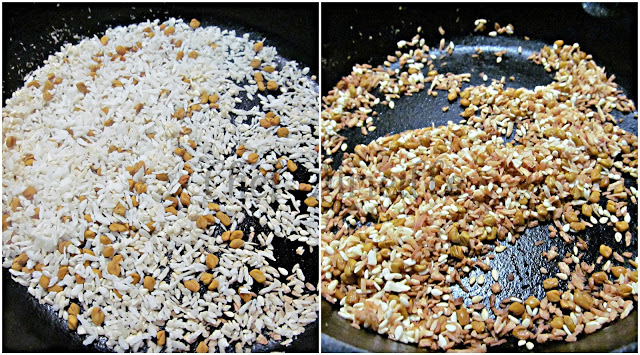 Cool for a few minutes and then grind to a powder.
Pour boiling water over tamarind and let sit for 15 minutes. Strain, squeezing out all of the water from the tamarind.
In a blender, puree pineapple with tamarind water.
In a large skillet, combine the pinapple puree with the chile, turmeric, sugar, salt and ground sesame seed etc. mix. Bring to a boil. Add fish pieces and simmer until fish is cooked, about 5 minutes.
In a small skillet, heat oil and add mustard seeds. Once mustard seeds start to pop, add curry leaves 1-2 minutes. Add this to curry and adjust salt, if necessary.
Serve with steamed Basmati rice.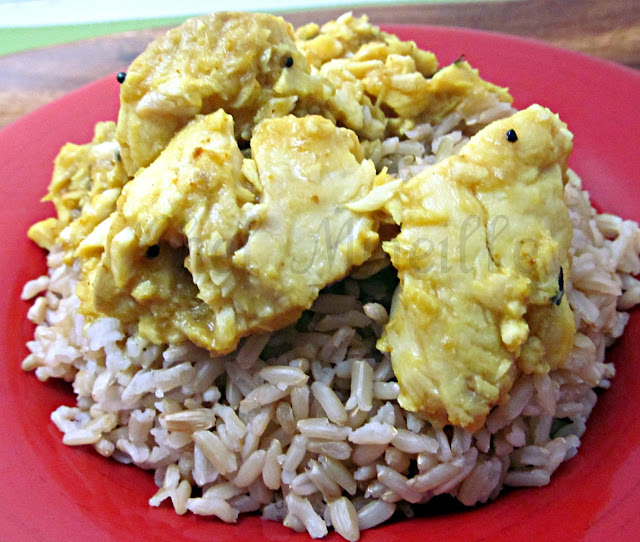 Pineapple Fish Curry & Brown Basmati Rice
…linking to My Spicy Kitchen's Seafood Event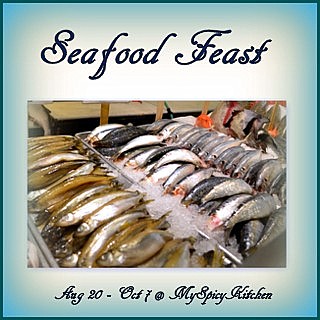 LIKE THIS RECIPE? LEAVE A COMMENT..I LIVE FOR THEM!
Chef Mireille
Like me on FACEBOOK!
Follow me on TWITTER!