Last Updated on October 30, 2021 by Chef Mireille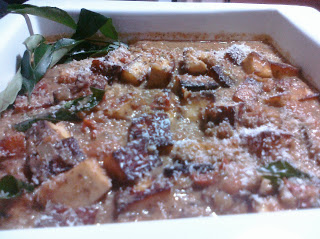 This is my version of a South Indian style curry – with the flavors of tamarind, curry leaves and coconut. Hope you enjoy it!
12 ounces Paneer, diced
1/4 cup Tamarind Water
1 tablespoon plus 2 teaspoons ghee, seperated
1 tablespoon Jaggery, grated
1 cup Coconut Milk
1 tablespoon ginger paste, chopped
1 Onion, chopped
2 Tomatoes, chopped
3 Chiles
1 tablespoon coriander seed
1 teaspoon cumin seed
salt, to taste
12 curry leaves, plus more for garnish
1 tablespoon coconut powder (or grated coconut), for garnishTo make tamarind water, place 1 tablespoon tamarind pulp in 1/2 cup boiling water and let rest for 10 minutes. Strain and reserve water.
Sprinkle paneer with a little salt. Heat ghee and brown paneer on all sides. Remove from pan.
Saute onion and ginger paste, until a little browned.
Add tomatoes, tamarind water, jaggery and coconut milk. Bring to a boil. Add paneer, reduce flame and simmer for 10 minutes.
Meanwhile, in a small skillet, roast chiles, cumin and coriander until golden brown.
Cool. Grind. Add to paneer.
Add salt, as desired. Simmer for 5 minutes. Turn off fire.
Heat 1 teaspoon ghee in same skillet and fry curry leaves for a few minutes.