Last Updated on December 14, 2020 by Chef Mireille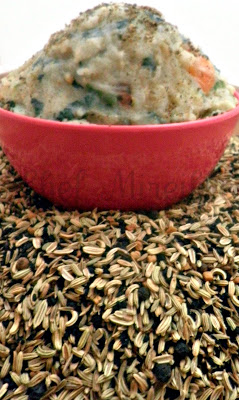 Blogging Marathon #17
Theme: Archived Recipes Revisited & Improved
Today starts June's Blogging Marathon but with a totally new format. Instead of 2 weeks of blogging and then some blogs becoming virtually non-existent for the remaining 2 weeks, the BM will now be posting 3x a week every week. This way the posting will be more evenly distributed throughout the month.
Do check out the Blogging Marathon page for the other Blogging Marathoners doing BM#17
While some BM choose to do only one week, some of us are welcoming the challenge of doing all 4 weeks and we get a special category that we can keep for all 4 weeks just for doing that – revamping old posts!
I've been blogging for almost 5 years and some of my early posts are just plain pitiful, in terms of photography (if they have photos at all). This is my opportunity to repost previous recipes I've done with my usual step by step photos and also update and improve them, at the same time, as my culinary knowledge and experience has improved. Please join me as we look back in time this month and put some revitalization and energy into posts from the early days of the blog. It will be every Sunday, Monday & Tuesday this month.
We are starting with an Indian inspired fusion meal back in my early days of Indian food discovery and was so intrigued by my new discovery at the time…Panch Puran and used this delicious blend of spices with good old American mashed potatoes. I've added some more vegetables to the original recipe posted back in 2008 to make it a more complete dish.
Panch Puran Mashed Potatoes
(click here for printable recipe)
Ingredients:
6 medium potatoes, peeled and quartered, about 2 lbs.
1 stalk celery, thinly sliced
1 carrot, quartered and thinly sliced
2 cups cauliflower, thinly sliced (about 1/2 head of cauliflower)
2 cups spinach leave, thinly sliced
1 tablespoon mustard oil (you can use vegetable oil or olive oil if you cannot find mustard)
2 scallions, thinly sliced
2 small chili peppers, minced
2 tablespoons butter
¾ cup vegetable or chicken broth
¼ teaspoon freshly ground nutmeg
2 tablespoons Panch Puran
salt and pepper, to taste
Bring potatoes in a large pot of water to a boil. Cook until cooked through, about 20 minutes.
While potatoes are boiling, sauté the vegetables and roast the spices.
Heat oil. Add scallions, chile, celery and carrots. Saute until vegetables are softened, about 2-3 minutes. Add cauliflower and 2 tablespoons water. Cook for 5 minutes. Add spinach leaves and cook, until leaves are wilted, about 1 minute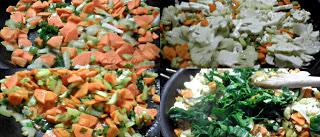 Add salt and pepper, to taste and toss.
Place a heavy skillet, preferably cast iron and dry roast the Panch Puran for a few minutes, until the spices become fragrant. Let cool.
Using a coffee/spice grinder, grind the spices to a fine powder.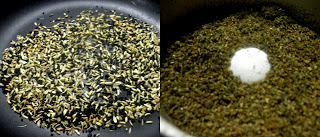 Drain potatoes and place in a large bowl
Using a
food processor
or electric mixer, whip the potatoes with the butter, 1 tablespoon of the Panch Puran, nutmeg and the broth. Mix until thoroughly whipped.
Using a rubber spatula, fold in sauteed vegetables. Add salt to taste and mix well.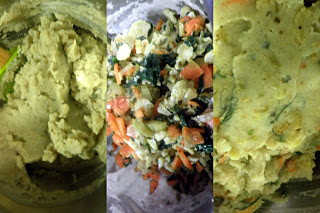 Place in a bowl to serve and garnish with more panch puran.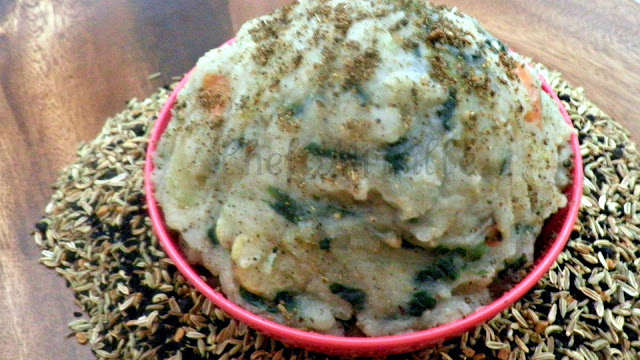 LIKE THIS RECIPE? LEAVE A COMMENT..I LIVE FOR THEM!
Chef Mireille
Like me on FACEBOOK!
Follow me on TWITTER!