Last Updated on May 20, 2015 by Chef Mireille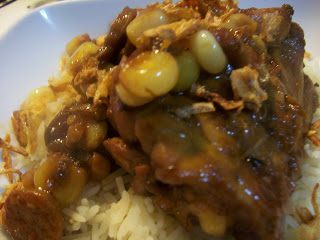 Any recipe, including the ones I post here, should be used as a guide. A recipe is not a holy document that you must follow religiously. It is a guide and then you can make any changes, either because of personal preferences or what you have on hand. Learning how to cook is not following a recipe, but learning how to adapt a recipe.
In the mood for Indonesian-style stew chicken, but there was no Sambal Olek (chili paste) on hand. What to do? I had a bunch of ingredients left over from a Peruvian themed dinner. Peru is one of the spiciest of Latin American cuisines, using various chili pastes, so this was a good alternative. Using leftover Peruvian ingredients with Indonesian Kecap Manis (sweet soy sauce), I came up with this delicious stew chicken recipe.
Indonesian-Peruvian Stew Chicken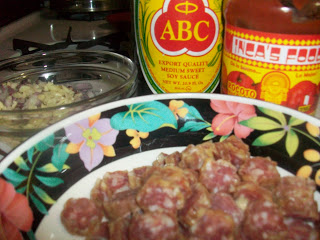 Ingredients
3 tablespoons oil
1 large shallot, chopped
3 cloves garlic, chopped
2 Chinese dried sausage, sliced
4 chicken thighs, skin removed
2 cups grane corn
3/4 cup Kecap Manis
2 cups water
2 tablespoons Rocota pepper paste
2 tablespoons fried shallots (available at Asian markets)
salt, to taste
Method:
1 – Remove the skin from the chicken but leave the little bit of fat that is usually on the edges. Fat is flavor. Season the chicken with a little salt
2 – In a large pot, heat the oil, add the shallot, garlic and Chinese sausage. Saute for a few minutes until the onions are translucent.
3 – Add the chicken and brown on both sides, approximately 4-5 minutes on each side.
4 – Add the Kecap Manis, pepper paste, water and corn. Bring to a boil. Reduce to a simmer. Cook for about 30 minutes, until chicken is cooked thoroughly.
Chef Mireille
facebook.com/GlobalTastes
twitter.com/GlobalTastes