Last Updated on May 31, 2015 by Chef Mireille
I recently started teaching cooking classes as part of an after school program in public schools. I follow an established curriculum and teach the recipes given to me by the Chicago headquarters that are already in the curriculum.
Traditional recipes from different cultures are adjusted to make them healthier, as we are trying to teach children to embrace a healthy lifestyle from a young age, as well as teach them about different cultures. Although chicken breast is probably not the traditional meat used in this recipe, all of our recipes use lean proteins like chicken breast or ground turkey, instead of traditional proteins that have more fat content.
I am simply posting the photos and recipe here, but I did not cook this dish. Maybe the knife cuts aren't even and perfect, but considering this was made by my 11-13 year old students, I think this dish looks fabulous.

If you are looking for a kid friendly healthy meal, this stew was a hit with each student devouring it. During class, we enjoyed it with some steamed brown rice and Ethiopian green vegetable preparation known as Ye'abesha Gomen, but I only had leftovers of the stew so that's the only dish that made it into these photos.
The first step is to make the Berbere Spice Mix…
Doro Wat
Prep Time: 30 minutes
Cook Time: 30 minutes
Yield: Serves 4
Berbere Spice Mix Ingredients:
1 tablespoon paprika
1/4 teaspoon ground cloves
1/4 teaspoon ground ginger
1/2 teaspoon ground cinnamon
1/4 teaspoon crushed red pepper
Stew Ingredients:
juice from 2 lemons
1 tablespoon salt
1/2 lb. diced boneless and skinless chicken breast
2 tablespoons olive oil
1 diced red onion
3 minced garlic cloves
1 tablespoon peeled and grated ginger
1 large chopped zucchini
1 peeled and diced sweet potato
1 cup chicken broth
1/2 cup water
salt and black pepper, to taste
Toss the chicken with the lemon juice and salt. Put in the refrigerator to marinate for 1/2 hour.
Meanwhile, make the Berbere by combining all the spices in a bowl. Stir to combine.
Heat oil in a deep skillet or saucepan. Add onion, garlic and ginger. Saute until the onions turn translucent.
Add Berbere spice mix and cook for another minute until they become fragrant.
Add chicken and stir fry for about 5 minutes.
Add zucchini, sweet potato, broth and water. Bring to a boil and simmer for 20 minutes, until chicken and potatoes are cooked through.
Adjust salt and pepper. Stir to combine.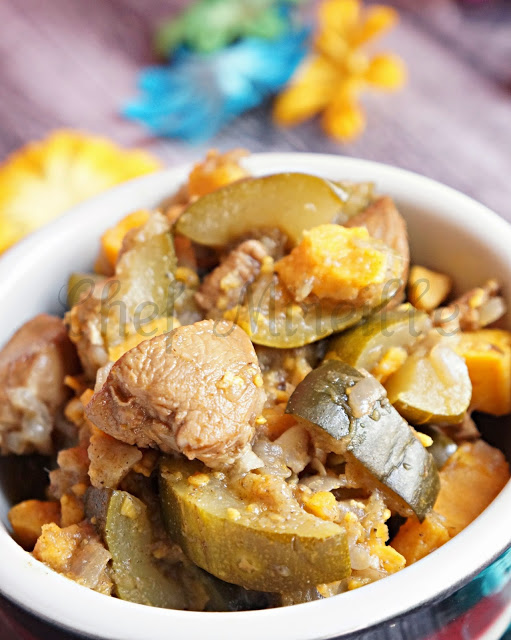 Although I had no more of the rice and vegetable side dish, I just as easily enjoyed this stew on its own or with some crackers or crusty bread.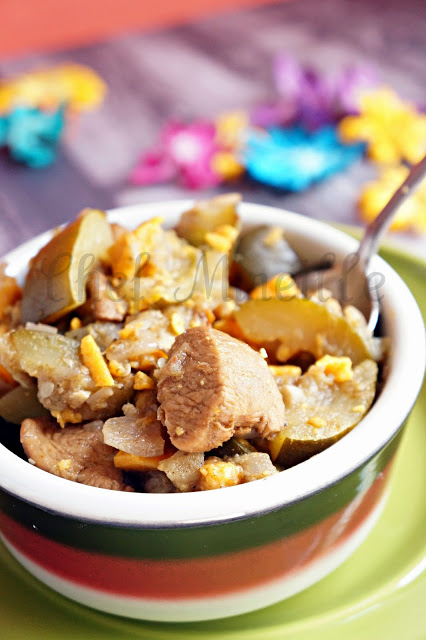 These were the plates as the kids enjoyed it in class…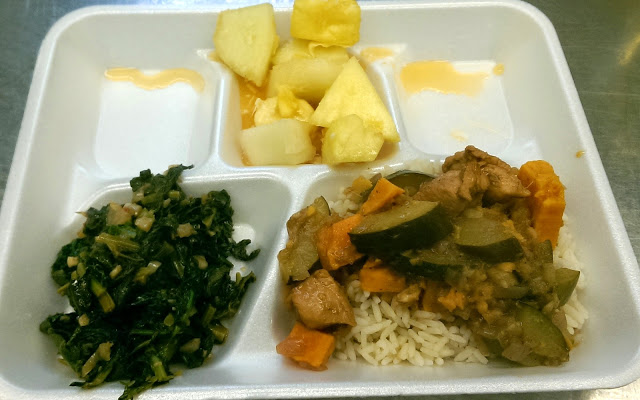 This joins the May Week 2
Cooking from Cookbook Challenge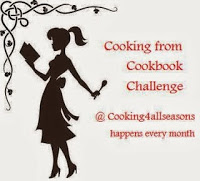 Let's start a conversation…Leave your thoughts
Chef Mireille