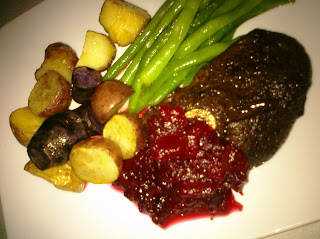 Cranberry sauce and fresh cranberries are nowhere to be found for most of the year and then suddenly, the week before Thanksgiving, they are everywhere. Grocery stores and farmer's markets have mountains and mountains of cranberries available. Then, about now, they start to disappear again, until next November.
Eventhough I grew up in America, I did not grow up with cranberry sauce on Thanksgiving. My parents being of Caribbean/Indian decent, my Thanksgiving was usually curry chicken and we were lucky when my parents sometimes made turkey wings, so we could kind of feel like our friends talking about leftover turkey (but not really) 🙂
My first experience with cranberry sauce was this jellied mass that came swooshing out of a can, when I spent Thanksgiving with a friend, while I was going to school at the University of New Mexico. It did not look appetizing, but I was willing to try it. Once bite was more than enough and I decided then and there, that I did not like cranberry sauce and I refused to try it again for many years. Years later, I was on a mission to create a traditional Thanksgiving dinner (I had missed it my entire childhood) and I decided there had to be a better version than the canned stuff. I found a recipe for homemade cranberry sauce and it was pretty good. Throughout the years, I have altered that original recipe to create a few delicious versions. Homemade cranberry sauce is delicious, easy and fast to make. Why people eat the jellied stuff (and some people swear by it) is beyond me.
Here is a recipe for one of my versions of Cranberry Sauce (I have several) and guess what, cranberry sauce tastes great with things other than turkey.
Braised Lamb Chops with Cranberry Sauce
Cranberry Sauce Ingredients:
1 pound cranberries
1 cup quince jam
1 1/3 brown sugar
zest and juice of 1 orange
1 cinnamon stick
3 allspice berries
2 cups water.
Combine all ingredients in a saucepan. Brint to a boil. Reduce to a simmer and cook for about 20 minutes, until berries are soft and some have burst. Let rest for at least 30 minutes, before serving. Sauce will thicken as it cools.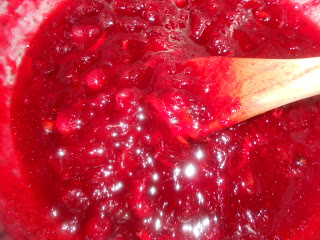 Braised Lamb Chop Ingredients:
4 lamb chops, 1 pound each
3 allspice berries
5 cloves garlic
5 chiles, split
2 tablespoons gound coriander
1 tablespoon paprika
2 teaspoons ground cumin
1 tablespoon dried parsley
1 1/2 cups red wine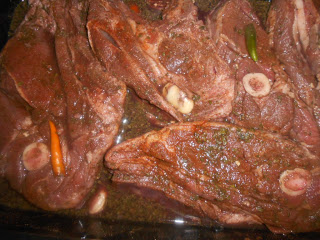 Sprinkle lamb chops on both side with dried herbs. Combine all otheringredients in a large dish and place chops in marinade for at least 2 hours. The longer you marinate, the more tender the chops will be.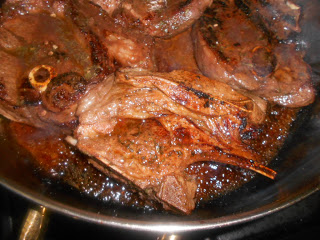 In a large skillet, heat 3 tablespoons of oil, Brown lamb chops on both side. Add wine from marinade. Bring to a boil. Simmer for about 10 minutes, until lamb is cooked through and tender.
Serve with cranberry sauce, roasted potatoes and sauteed green beans.
So buy some cranberries, if you can still find them and take advantage of this wonderful fruit…for as long as they are available for weekly meals. You don't have to wait for a holiday!
Chef Mireille
Sign up for our updates!
Subscribe to get our latest content by email and get your FREE Pantry Cheat Sheet - Learn the basics to cook any International cuisine!