Last Updated on May 31, 2015 by Chef Mireille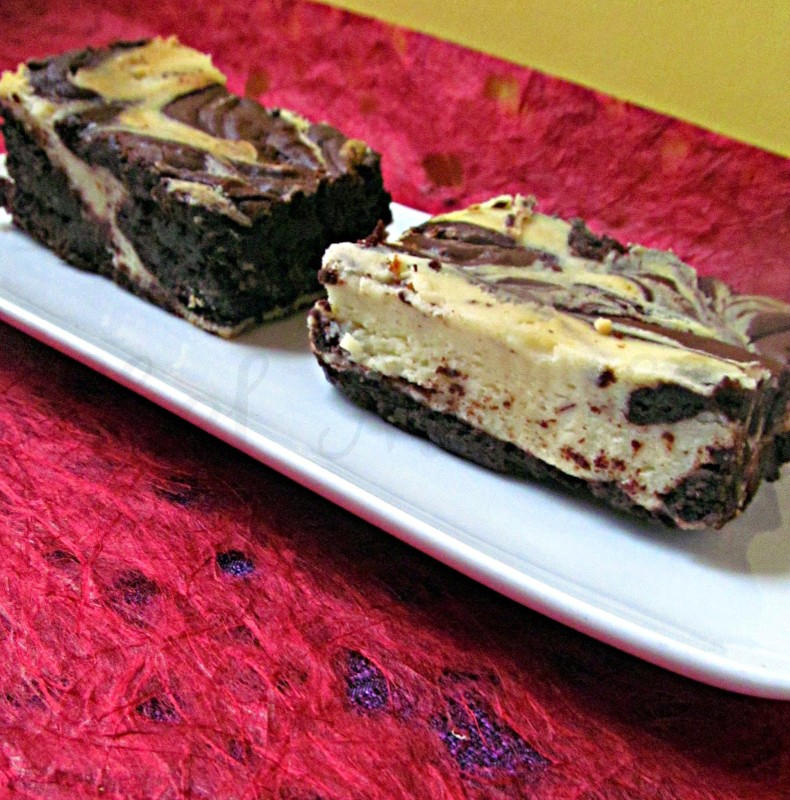 Orange Cheesecake Brownies
Well, 2014 has come to an end and the end of the year always leads to reflection on the ups and downs of the last year. 2014 was definitely that for me on a personal level. What I thought was going to lead to a wonderful job opportunity turned out to be an unmitigated disaster, but as they say when one door closes another one opens. That very week I received a request and had my first opportunity to teach a university level class at Marymount Manhattan College. Although I work freelance, work has steadily been increasing and I am very grateful to that.
My favorite cousin, who I have not seen in several years is currently visiting me from Holland for 3 weeks and we are having lots of fun visiting restaurants and showing her Dutch friend NY for the first time…not to mention seeing The Lion King on Broadway. Her friend was nice enough to pay for my ticket as a thank you for my hospitality while she is staying at my place. Although it wasn't necessary, I was very grateful and I thank God for all the blessings I have received this year.

One of those blessings was a gift of my first DSLR camera. This has improved the quality of my photos so much and I can truly say I am now very proud of the photos I am currently taking for the blog. A special shoutout also has to go to Usha who helped me learn how to use the camera on Manual mode and who became my sometimes buddy for shopping for nice backgrounds for the photos at Pearl Paint, which has since unfortunately closed down. She is always sharing ideas on creating better backgrounds for the photos and I am grateful for her assistance.
This is my first recap, but with 2014 marking my 1000th post milestone in addition to my much improved photos, I think it's worth mentioning some of the best posts of 2014.
Before we go to my favorite category posts, here is my favorite from every month. Some are favorites for the photos and some for the food itself.
Favorite Posts by Month
January – Orange Cheesecake Brownies
February – Tabbouleh Salad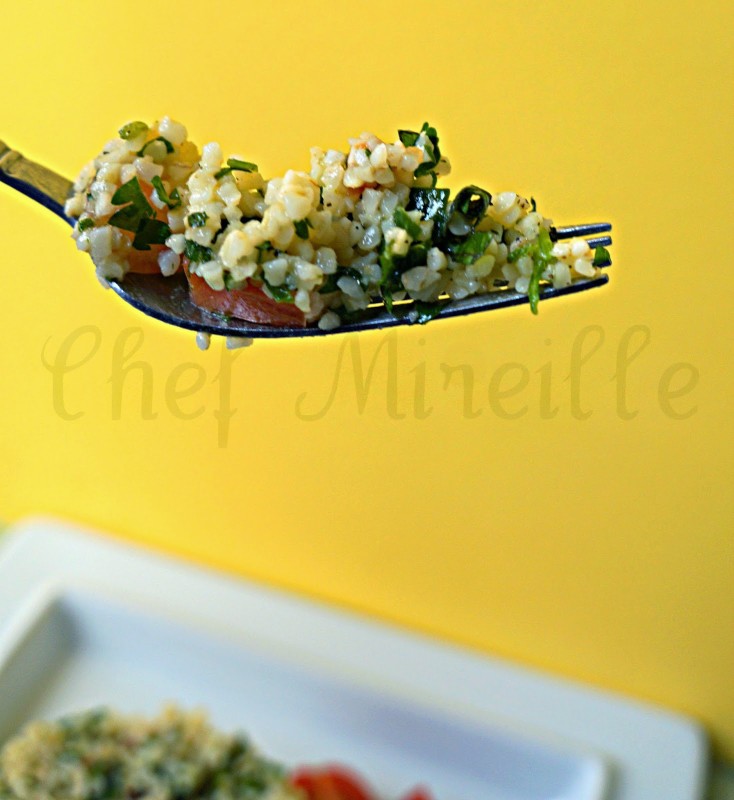 Tabbouleh Salad – my favorite photo of the year!
March – Char Sui – Chinese Roast Pork
April – Karnataka Thali
May – American Tea Biscuits/English Digestive Biscuits
June – Apple Banana Smoothie
July – Smoked Paprika Mango-Jicama Salad
August – Korean Bibimbap
September – Che Dau Xanh – Vietnamese Mung Bean Pudding
October – Hamburger Buns
November – Gochujang Dak Juk – Korean Chicken Rice Soup
December – Cardamom Coffee Cake
Cardamom Coffee Cake
Any of my regular readers know I participate in the Blogging Marathon almost every month and this year, I was able to participate in both mega marathons. In April, the mega marathon theme was Indian Food Odyssey, where we created meals for each of India's 30 states.
Favorite Indian Odyssey Posts 
Tamil Nadu – Chettinad Lamb Curry, Plantain & Cabbage Poriyal, Tamarind Rice
Handvo – Vegetarian Savory Cake
Erral Masala Vadai – Shrimp Fritters

September's mega marathon theme was International Cooking by Alphabet, where we cooked a recipe for a country that started with each letter of the alphabet.
Favorite International Cooking by Alphabet Posts
Paprenjaci (Croatia)
Cunape (Bolivia)
Locro de Papa (Ecuador)

Except for this past November, I have participated in the Cooking by Cookbook Challenge,every month which has had me cooking up lots of delicious recipes from my gargantuan cookbook collection, TV cooking shows and product packages.
Favorite CCC Posts
Xin Xin de Galinha
Mazamorra Morada
Rajasthan Watermelon Curry

I love soups. Whenever you don't know what to do with a bunch of veggies, stick it in a soup. Here are a few of my favorite soups of the year.
Favorite Soups
Laotian Chicken Noodle Soup
Water Spinach Laksa
Roasted Pepper Gazpacho

I have continued to get more involved in Bread Baking, especially with me joining the Tame the Yeast subgroup of Blogging Marathon, as well as my participation in We Knead to Bake & Bread Bakers.
Favorite Breads
No Knead Whole Wheat Bread
Melon Pan
Walnut Wheat Bread

I am a tea drinker and especially during the winter months. Here's a few both sweet & savory treats to go with your cup of chai.
Chayote Carrot Tarts
Passionfruit Coconut Tea Cake
Koularakia

I cook chicken more than any other protein and here's my top chicken posts of the year.
Favorite Chicken Recipes
Chicken Lokri
Spanish Basque Chicken
Moroccan Saffron Chicken

Although I cook many International foods, I cook more Indian than any other global cuisine. I discovered lots of new Indian recipes this year,
Favorite Indian Posts
Til Narial Bhat
Paneer Lababdar
Papdi Chaat

Of course, we must end the year on a sweet note.
Favorite Sweet Posts
White Chocolate Panacotta
Baath
Samoan Banana Donuts

Wishing every one a safe and happy New Year!!!
LIKE THIS RECIPE? LEAVE A COMMENT..I LIVE FOR THEM!
Chef Mireille